The Perks of Traveling Without Children
Traveling Sans Babies Has Its Advantages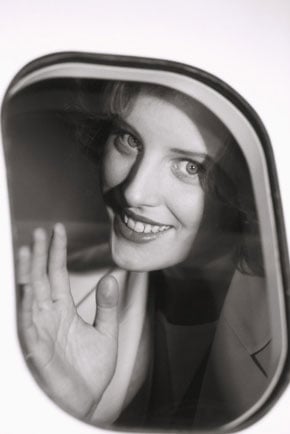 Look ma, no kids! Last weekend, mama got a break from pureed baby food, stinky diapers and bath time duty. The grandparents came to the rescue and watched my wee ones as I took off on a beach adventure with my hubby. While I missed the lil ones, there were certainly plenty of perks traveling as a childless passenger that I will never take for granted again.
Packing: For starters, instead of washing, folding and packing clothes for three people, I just tossed my clothes in a bag. Usually I skimp on my own wardrobe to ensure enough room for diapers and pajamas. This time, I packed extra dresses, a sun hat, more than enough shoes, and two, yes two, books!
Getting Ready: When the alarm went off, I showered, kissed the tots goodbye and walked out of the house. There was no race against the clock to clean, dress and buckle everyone. Also left behind? Prepared bottles, sliced fruit, crackers and a bag full of cartoon DVDs.
Getting There: When we pulled into the long-term parking lot, my husband and I jumped out of the car, grabbed the suitcases and ran to the shuttle. With kids, mama's got to unleash the car seats, strollers, and added baggage.
To see the rest of the reasons I look forward to adult travel and what bums me out,
.
Security: Getting through security as an adult traveler is a breeze. It's as easy as taking off the shoes, putting the laptop in the scanner and walking through the detector. Add a toddler or two to the mix and mommy's tossing liquids left and right, de-robing wee ones, shoving car seats on X-ray machines and then putting it all back together again.
Flying: Ahhh... mum is seated, got her best book in her lap and her ear buds plugged in tight. She may even get to enjoy a glass of wine and a movie. If she's got baby with her, she's got someone tugging on her shirt, begging for a story, snack or a movie. Let's not even discuss diaper changing in the lavatory and keeping a screaming child quiet while other passengers glare at her.
Now that I sound like an ungrateful mother, let me tell you all the ways I missed my children terribly before I even left the house. The night before I left my babies with my parents, I took loads of pictures of them so I could stare at them on my camera during my trip. I also had to cuddle and love them to pieces. I snuck into my daughter's bed and cradled her before I finally crept into my own bed. I would have jumped in my son's crib if I didn't think it would wake him up. When I arrived at the airport, I ogled other tiny travelers wishing mine were with us. And, at the risk of sounding pathetic, I'll admit that I listened to the Dragon Tales soundtrack on my iPod because it made me feel closer to them. In the end, they had a terrific time with my parents and I'm 100 percent positive I am a better mother after a reinvigorating relaxing trip.
Do you have tips for traveling with or without the kids? Join our Mommy Club group and share your stories and tricks.