Are you racking your brain for a gift for your kids [1] that'll stand out from the rest this Hanukkah or Christmas? Personalization just may be the solution you've been searching for. From toys to room accents and more, we've found the very best one-of-a-kind gifts for your one-of-a-kind kids!
Santa Apron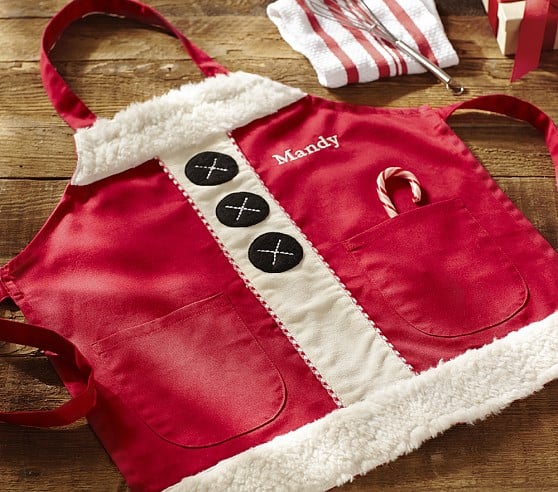 Cookies for Santa just don't taste nearly as yummy if you didn't bake them wearing a personal Santa Apron [2] ($24)!
Little Sapling Toys Personalized Blocks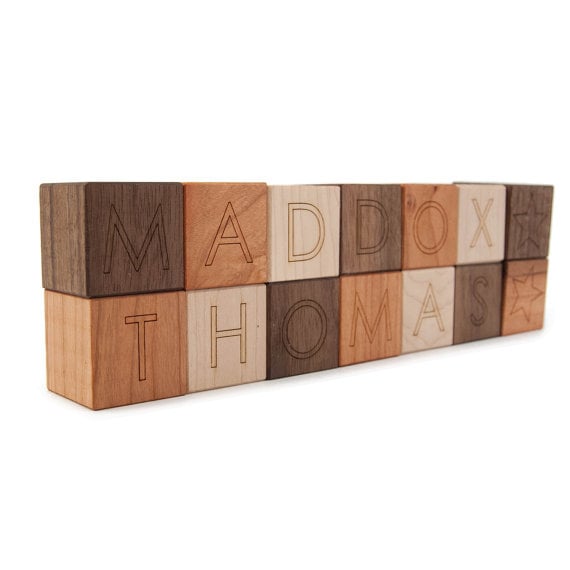 Time and time again, we find ourselves returning to Etsy seller Little Sapling Toys for the chicest wooden toys and gifts for kids. Its personalized building blocks [3] (starting at $3 each) feature multiple wood finishes and a clean, modern font.
Rosenberry Rooms Varsity Initial Bookends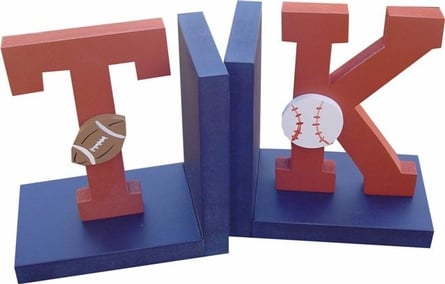 Make your little jock's bookshelves a bit more special with the addition of Rosenberry Rooms' Varsity Initial Bookends [4] ($68).
Custom Superhero List Tank Top
Whether you opt to list your little one's favorite superheroes, princesses, or pop stars, Custom Superhero List Tank Top [5] ($20) will make them a part of the squad.
Melissa & Doug Whittle World Plane Set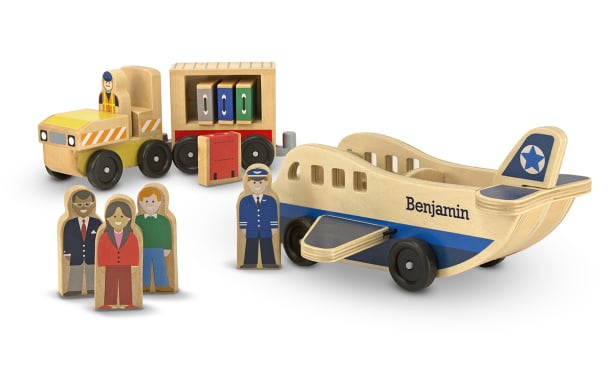 Did you know that beloved toymaker Melissa & Doug [6] offers (superaffordable) customization on many of its toys and games? This Whittle World Plane Set [7] ($25) becomes a one-of-a-kind airliner.
The Land of Nod You Name It Ornament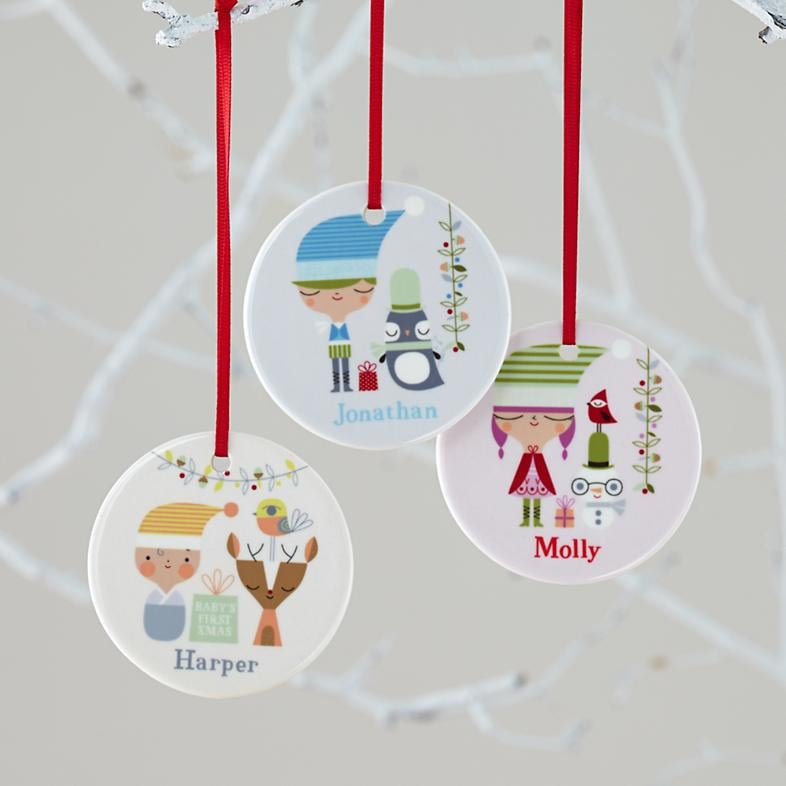 New this year, The Land of Nod's You Name It Ornament [8] ($16) is available for baby's first Christmas, girls, or boys. Order ASAP to ensure Christmas delivery!
Sarah Chloe Ella Bangles For Girls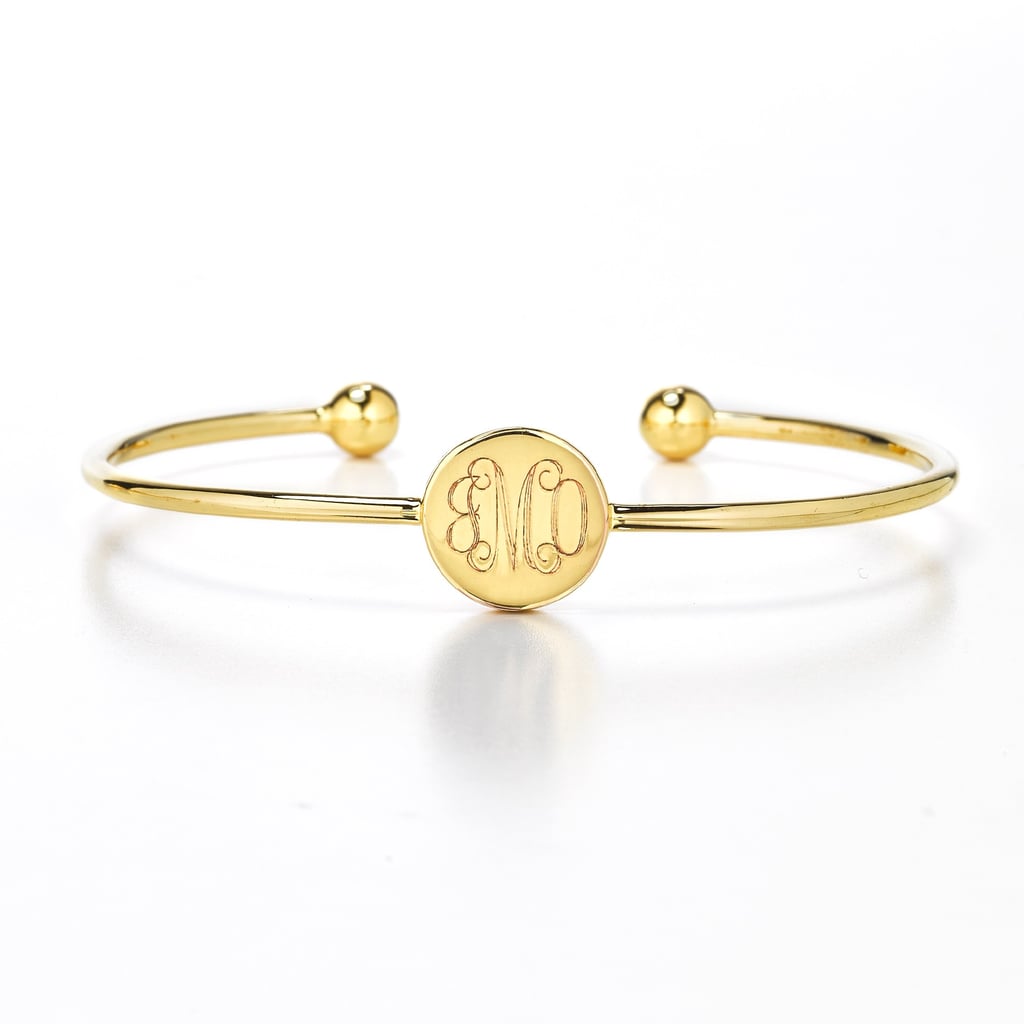 A timeless gift that's a perfectly appropriate way to adorn little wrists, Sarah Chloe's personalized Ella Bangle [10] ($139) is something that she can continue to wear from her toddler years through her tweens (it's adjustable)!
Tickled Peach Studio Personalized Puzzle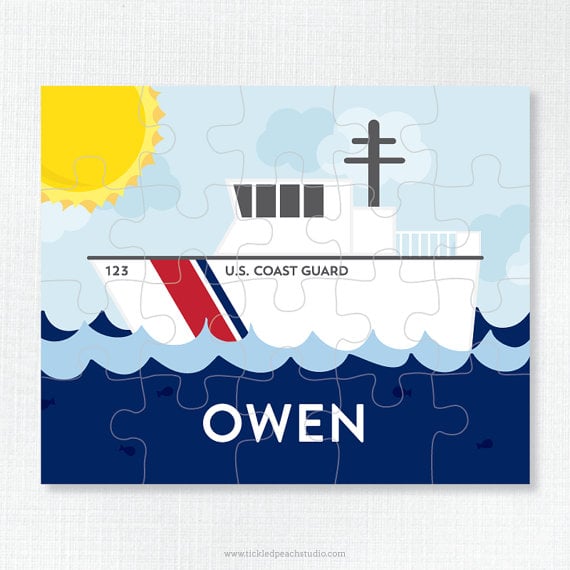 This sturdy, 20-piece Coast Guard Boat Puzzle [11] ($18) is made extraspecial with the addition of the recipient's name.
Pottery Barn Kids Designer Doll Collection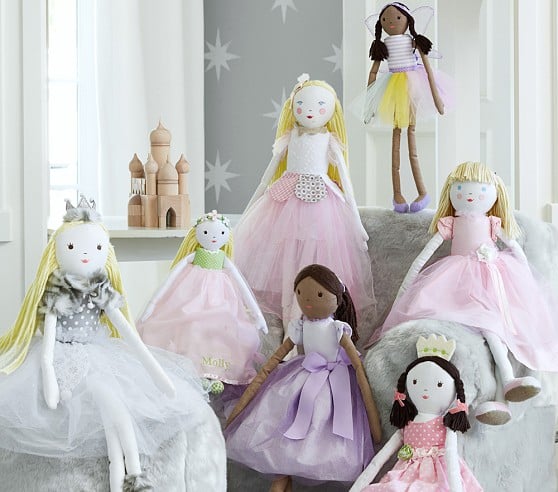 Pottery Barn Kids' new Designer Doll Collection [12] ($59-$69) couldn't be sweeter. These super soft dolls are made of linen with cotton, tulle, and ribbon accents. Make them even more giftable by adding your special little girl's name to the doll of her choice.
Frecklebox Princess Lunchbox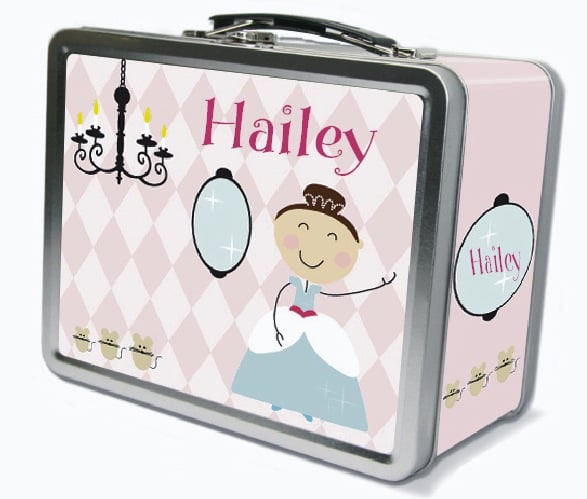 She'll be the envy of the lunchroom crowd with this personalized lunchbox [13] ($40) — fit for a princess!
Pinhole Press Mini Book of Names & Faces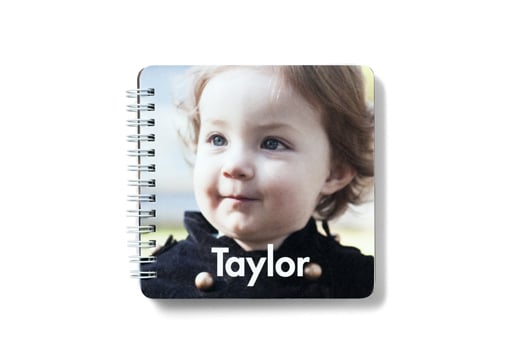 Forget the generic picture books that teach tots what they should call various family members. Pinhole Press's Mini Book of Names & Faces [14] ($30) allows parents to create their very own customized board book with the names and photos of your baby's A-list.
Ralph Lauren Children's Backpack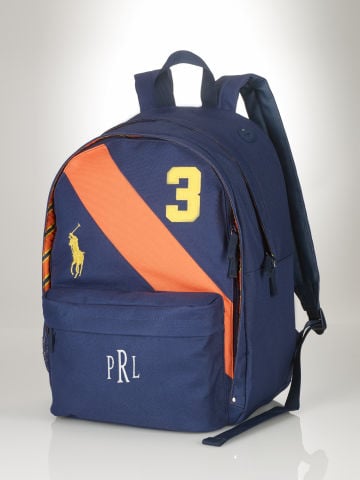 The sporty Large Banner-Striped Backpack [15] ($70) comes in a variety of color combinations and offers easy headphone access for the active kid on the go.
'Twas the Mouse Who Saved Christmas Personalized Storybook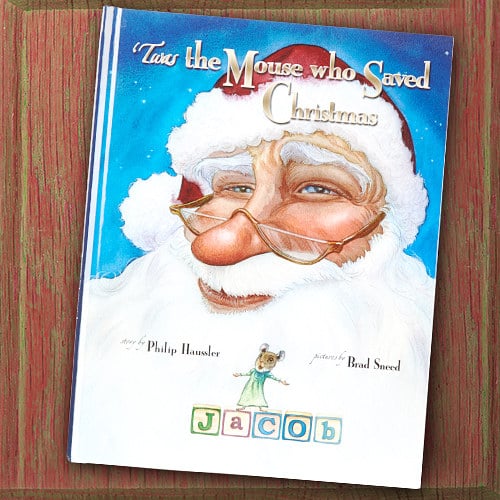 Your child's the star of Marble Spark's sweet Christmas story 'Twas the Mouse Who Saved Christmas [16] ($30). It's best suited for kids ages 2 through 8.
Nursery Fur Unicorn Bath Wrap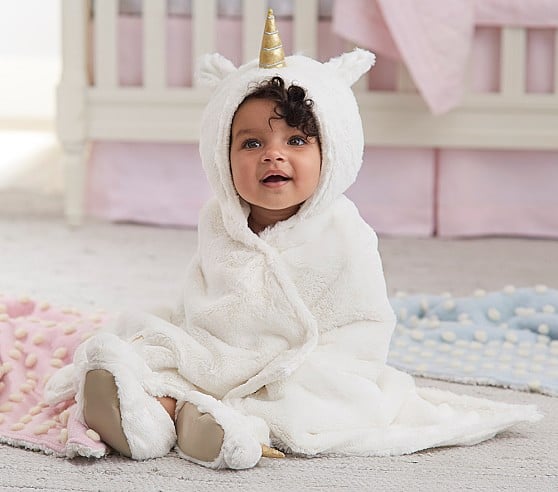 The only thing that could make this Nursery Fur Unicorn Bath Wrap [17] ($35) more perfect is by opting for the name embroidery.
Libbie & Winston Pirate Melamine Plate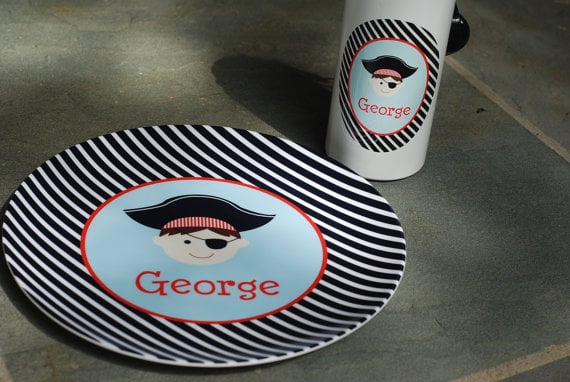 Mealtime for your favorite little pirate will be a lot more fun with this personalized pirate plate [18] ($20). In addition to adding your little one's name to the plate, you can customize the color palette.
Airbrushed Suishy Pillows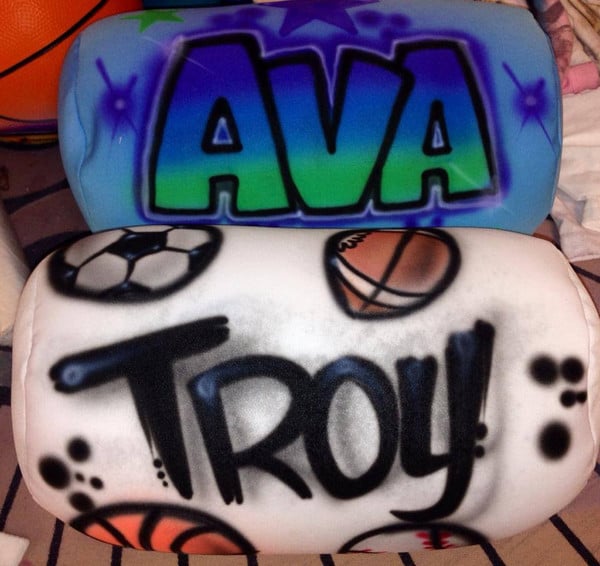 Kids already love everything about squishy pillows but wait until they see that Airbrushed Suishy Pillows [19] ($39) come customized with their name and favorite accents.
Moozle Home Personalized Teepee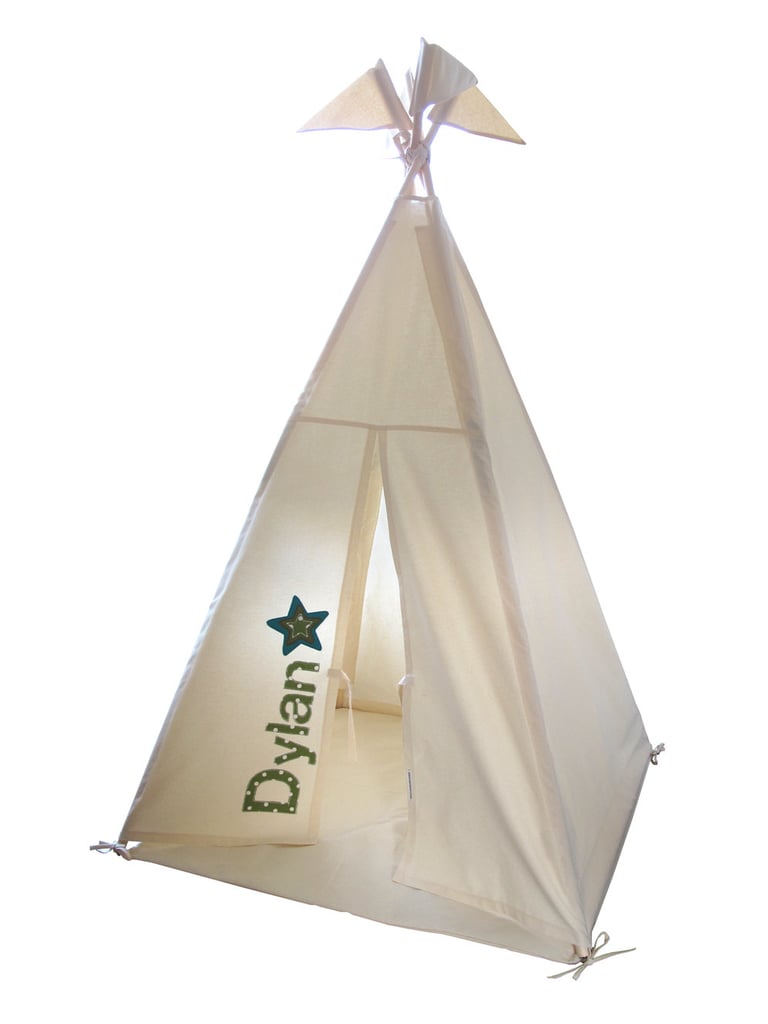 Teepees are a hot trend among the playroom set, and these personalized ones by Etsy seller Moozle Home [20] ($229) couldn't be more beautiful.
Citizens Collectible Plush Personalized Family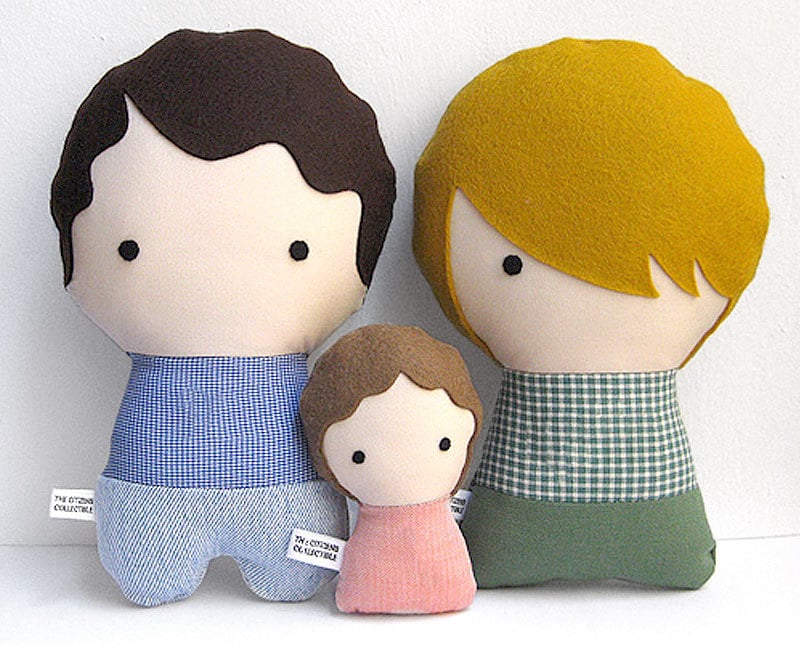 Who better for your little one to snuggle with than a plush family [21] ($99) in the likeness of his very own?!
Restoration Hardware Baby and Child Wool Felt Crown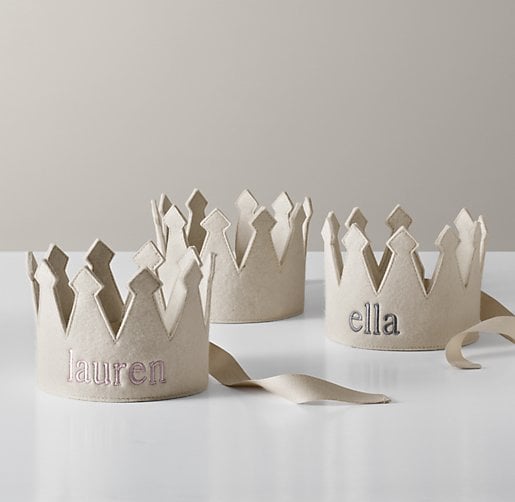 Make your little prince or princess's playtime even more magical with the addition of a personalized Wool Felt Crown [22] ($16) from Restoration Hardware.
Transform Their Artwork Into a Bound Book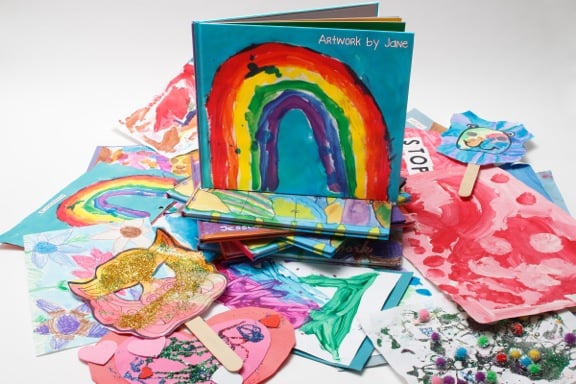 We love the concept of Plum Print [23], a service that will take that messy pile of kiddie art and magically transform it into a beautifully bound book. What child wouldn't love to see their masterpieces get "published"? Books start at $85.
Mark & Graham Colorfield Tennis Racket Holder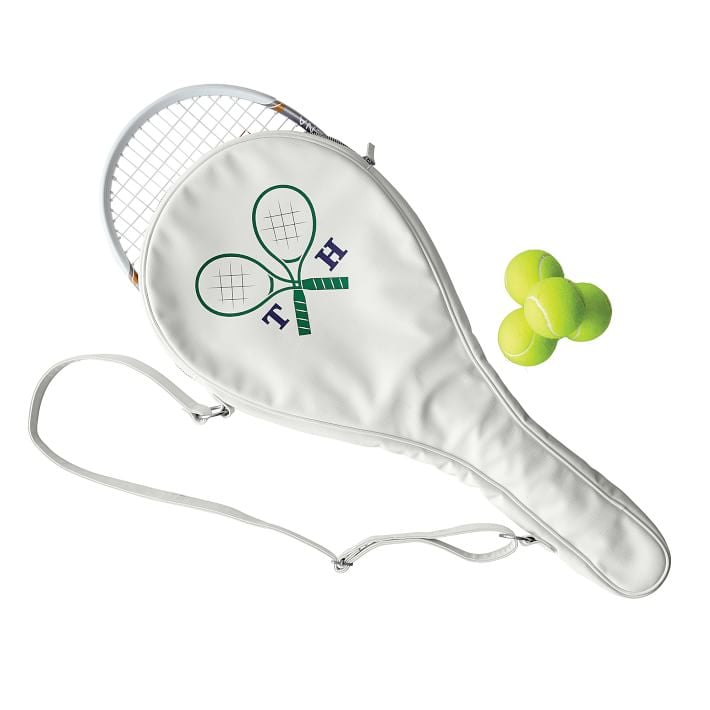 If tennis is your child's sport of choice, Mark & Graham's simply stylish monogrammed racket case [24] ($69, originally $89) will be a welcome accompaniment to their next match. Made of durable vinyl, it wipes clean and features a linen lining and outside pocket.
Friendly Toys Push-Along Goose
Made from sustainably harvested birchwood in Lithuania, Friendly Toys' Push-Along Goose [25] ($35) features your child's name on one of his wheels and the sweetest leather "feet" that hit the floor as it's pushed around.
Personalized storybook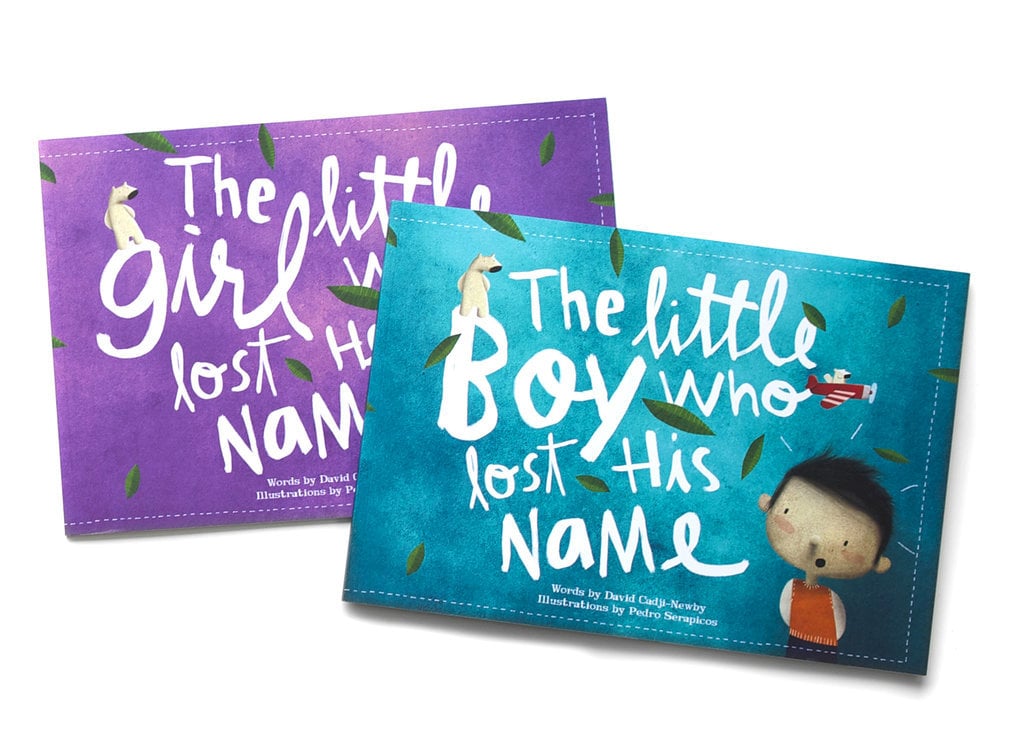 Rather than having their name slotted into pre-made spaces like in other custom books, this personalized storybook [26] ($30) [27] is completely different for every kid, based on the letters of their name.
KT Steppers Custom Step Stool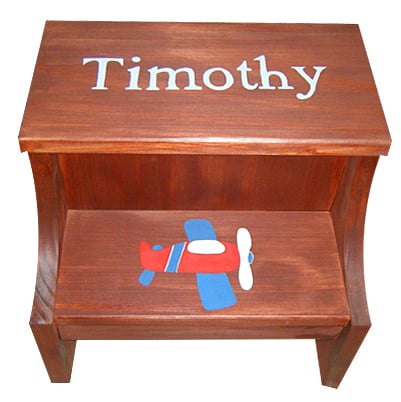 KT Steppers' Custom Step Stools [28] (price upon request) are a celeb favorite, and for good reason. The beautiful wooden step stools are designed and hand-painted to order, so each is unique for your special little someone.
Pottery Barn Kids Ballerina Anywhere Chair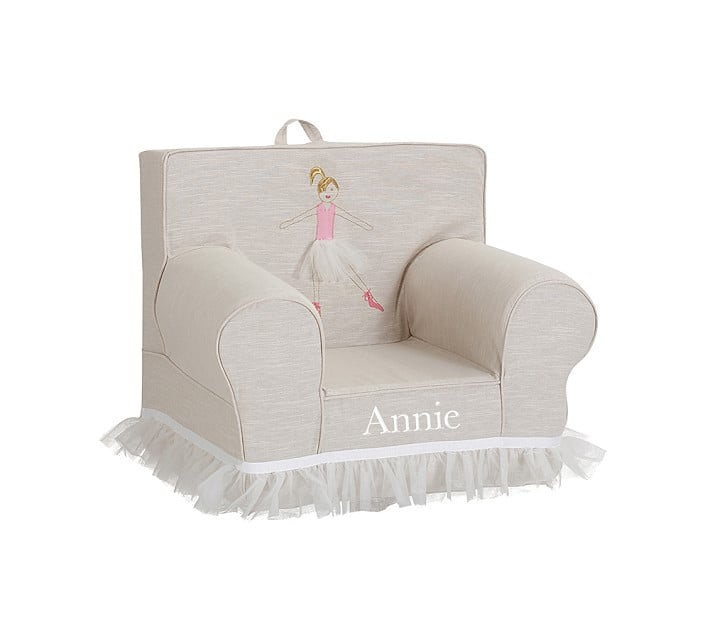 Perfect for your petit prima ballerina, Pottery Barn Kids' Ballerina Anywhere Chair [29] ($139) couldn't be a cuter addition to a bedroom or playroom.
Clipboard Case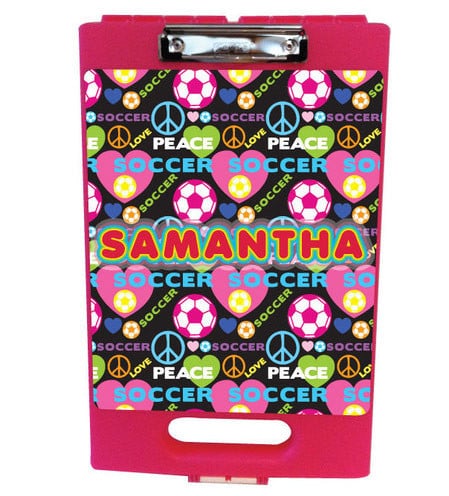 From camp to schoolwork on the go, kids will love being able to store their stationery in this personalized Clipboard Case [30] ($28).
Jungle Ring Dish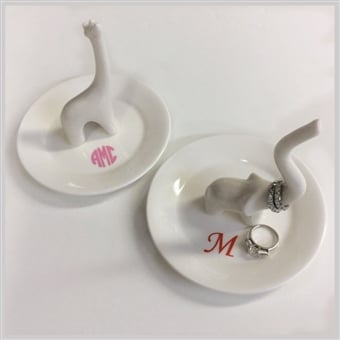 A monogramed Jungle Ring Dish [31] ($38) is a sweet gift that can grow with any little girl and her jewelry collection.
Personalized Schooltime Locker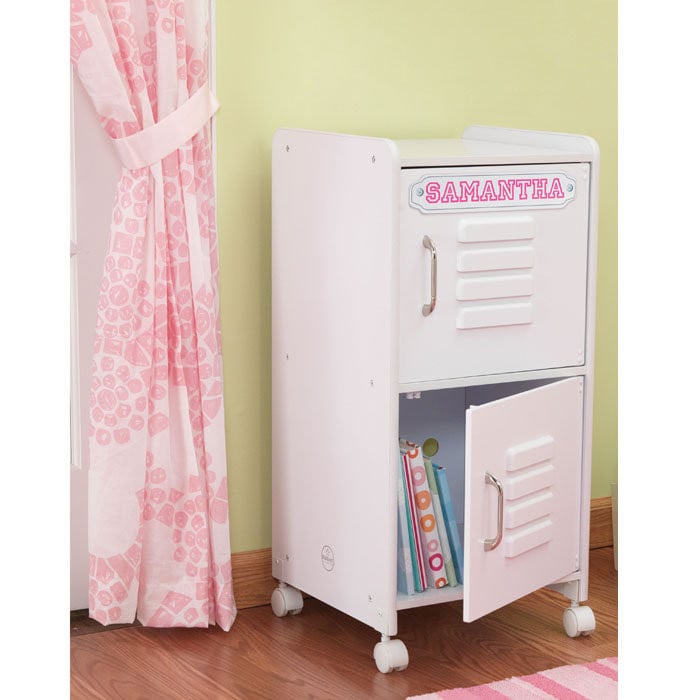 Parents will love the storage that the Personalized Schooltime Locker [32] ($85, originally $102) provides and children will be equally thrilled with the big kid-feel.
Personalized Playful Theme Book Display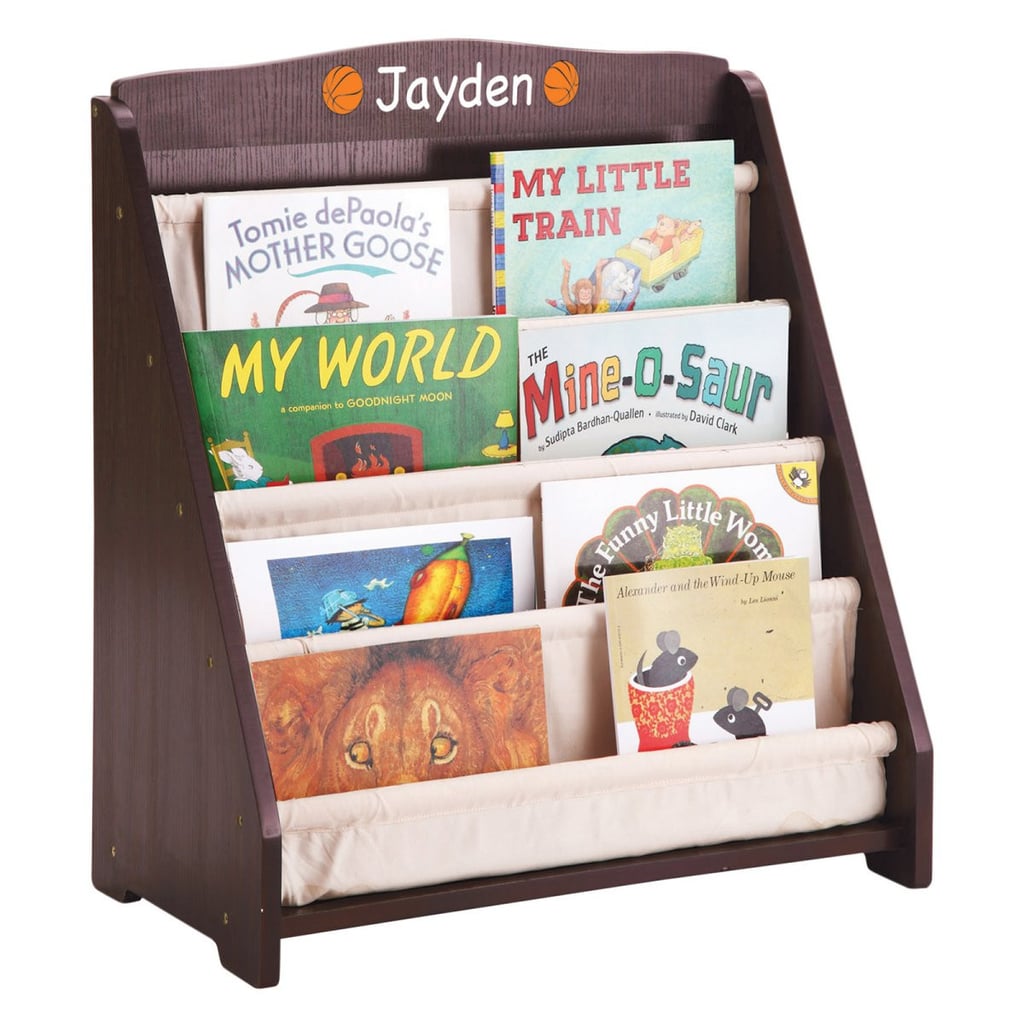 The color, theme, and font on this Personalized Playful Theme Book Display [33] ($75, originally $95) are all customizable to create a unique reading corner for your little bookworm.
Personalized Tabletop Vanity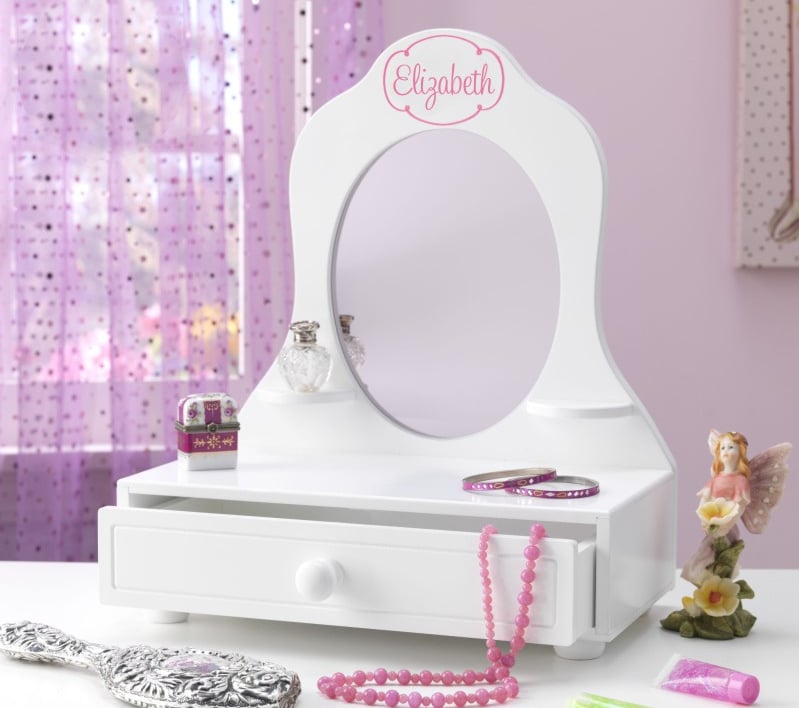 This Personalized Tabletop Vanity [34] ($50, originally $59) is perfect for any little princess in the making!
Personalized Choo-choo Train Piggy Bank with Handpainted Name
While they might not appreciate a college savings account just yet, this Personalized Choo-choo Train Piggy Bank with Handpainted Name [35] ($30, originally $45) is a great way to get them started.