Photos: Michelle Williams and Daughter Matilda Ledger
Celebaby Style: Michelle and Matilda March On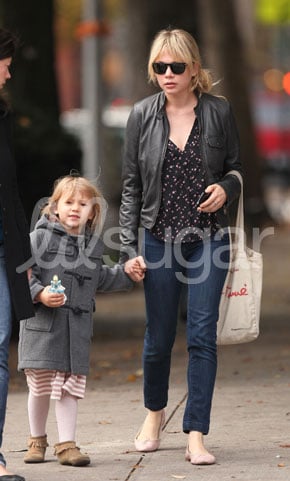 One princess holds another. Like many 4-year-old girls, Matilda Ledger appears to be a Cinderella fan. The princess-toting tot held her mama's hands through the streets of Brooklyn, where they eventually made their way to the young lady's school. Bundled up for a day out, the pretty pair wore complementary shades of gray, pink, and black.
The lil Ledger rocked her cozy Minnetonka moccasin booties, tights, and a pink-and-oatmeal striped dress. To top her look off, she mashed it up with a gray wool jacket complete with toggles and big pockets for her princess's safekeeping. Mommy Michelle looked effortlessly chic and stylish in her straight ankle jeans, printed blouse, and pale pink ballet flats. Like daughter, like mother — Michelle also completed her outfit with a snazzy leather jacket and a pair of old-school Ray-Bans.
We can't wait to see what this super duo has in store for Halloween!