Picture of Orlando Bloom and Flynn Bloom
Orlando Bloom Holds Son's Pacifier in His Mouth; Is That Safe?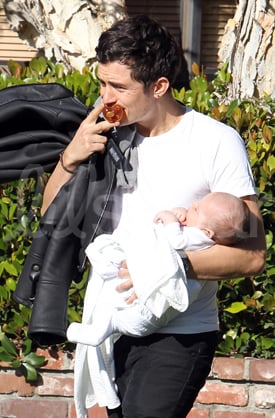 It's a dirty lil secret that most mothers don't care to share. When a lil one's pacifier falls to the ground, what's the easiest way to clean it before popping it back in their mouth? In mom's mouth, of course. According to doctors and dentists, the all-to-common practice may be fast, but it's also dangerous. Moving something from mom's mouth to tot's transmits bacteria, such as Streptococcus, which can lead to cavities in kids of all ages.
Someone may want to tell Orlando Bloom about these hidden dangers. The new pop was spotted leaving baby Flynn's pediatrician's office with the infant's Hevea car pacifier ($9) sticking out of his mouth. The natural rubber paci may be eco-friendly and sustainably produced, but if it's carrying dad's germs, all of that gets thrown out the window!