Picture of Pink and Baby Willow Hart
How Soon Did You Take Baby Out?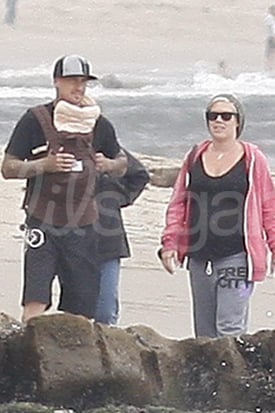 Lil Willow's already a beach baby! Pink joined her husband, Carey Hart, her own mom, and 10-day-old Willow Sage for a walk and photo session along Malibu's pristine beaches yesterday. The new mama was spotted happily engaging in her new photography habit, while the new dad carried the tot close to his chest in an Ergo baby carrier.
The breezy walk probably provided the new family with some much needed fresh air, but the singer is already catching flack for this, and for a previous stroll she took last week. It seems some mamas don't think it's appropriate to take a newborn out in public. Last year, Dr. Oz told us:
I would not take the child out. There's no reason to expose the child to illnesses which they can easily weather as they get older . . . In the first couple weeks, I'd limit visitation to very close relatives who are healthy and people can come and look at the child, but they just should avoid touching the child.
When did you first take your tot out in public?