Pictures of Eric Dane and Rebecca Gayheart's Daughter Billie
Oh Baby! Billie Beatrice Dane's McSteamy Magazine Cover Debut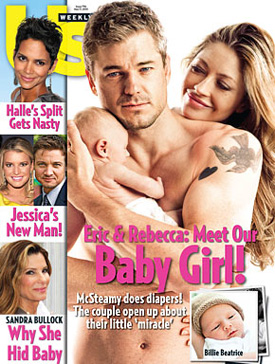 Billie Beatrice Dane is making her official debut on the cover of this week's US magazine. The shirtless photograph shows how the 2-month-old's dad earned the McSteamy nickname, as both proud pop Eric Dane and new mom Rebecca Gayheart appear to be posing with their baby in the buff.
While some celeb parents issue official photographs of their new additions to fend off the paparazzi, others turn to popular magazines to make their introductions — often fetching top dollar or having money donated to their charitable causes for granting access to their tots. Take a look at how other Tinseltown parents presented their lil ones for the very first time.
To see more baby debuts,
.