Pictures of Mamas and Papas Strollers
British Baby Line Mamas and Papas Preps For American Debut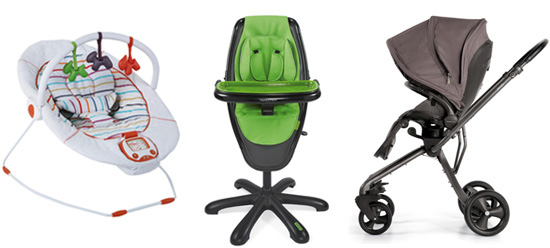 British baby rides get ready to roll in the US! Fresh off our list of international baby products we wished we could buy, Mamas and Papas, announced plans to enter the American market in August. The family-owned and operated company, known for their stylish strollers, plush toys, and design-oriented baby products first caught our attention when Gwen Stefani pushed Kingston in one of their gold buggies a while back.
We were invited to a sneak peek of the line yesterday, and found it to be functional, unobtrusive and full of mom-friendly features. With nine strollers running from the traditional travel umbrella version to the hip, industrial-looking Urbo and the luxurious (yet easy to close) Mylo. The makers also offer an extremely comfortable-looking baby carrier and an array of bouncers, high chairs and rockers. Mamas and Papas founder Luisa Scachetti, and her daughter Amanda (one of the only female stroller designers in the world) was on hand to walk us through the products. When we asked what features they consider when designing a carriage, Luisa explained. She said:

It has to begin with safety. All our strollers are tested for six months before they reach the consumer so we understand every single environment our strollers will encounter. Comfort for baby is paramount and that is why all our strollers feature additional padding using the best fabrics. Style is always high on my design agenda. We review and improve our strollers every season.
To see the rest of the line,
.