Pimp Your Crib: Chalkboard-Magnetic Paint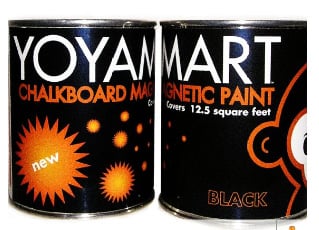 Talk about creativity explored! Hot Manhattan baby boutique, Yoya sells their private label chalkboard-magnetic paint so kids can feel right at home as they draw.
The paint, sold in 16-fl.-oz. cans ($35), can be easily applied to the walls and offers the ultimate artistic experience for children. Parents can use it as an educational tool helping tots learn to write letters, numbers, and their names. And, since the paint is also magnetic, your lil ones can hang all their works of art on it as well.