Pimp Your Crib: Decor-Friendly Growth Charts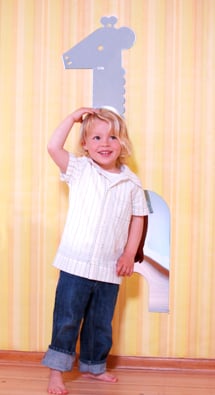 "My! Look how tall you are!" It's easy to lose track of just how quickly your tots are growing when you see them every day, but holiday visits with family are sure to remind you. Most modern mothers aren't willing to deface their carefully covered doors with pencil marks like their grandmas might have, but you can still keep the tradition of tracking height alive with a growth chart that won't ruin your precious playroom design.
The Petit Collage Giraffe Growth Chart and Mirror ($100) combines the best of so many worlds and can measure your growing child's height without standing out as a tool of any sort. Not ready for a pricey piece? Check out some of the less spendy but equally attractive options in the widget below.