Playground Safety Tips
Five Tips For Remaining Playground Safe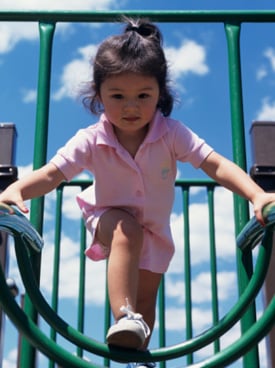 Keep monkeying around on the playground – but do so safely! Neighborhood playgrounds filled with jungle gyms, slides and fireman poles that keep lil ones occupied throughout the day also pose potential hazards that can thwart an otherwise fun afternoon. According to the Centers for Disease Control, more than 200,000 children visit the emergency room each year for playground injuries. Before packing up the snacks and sporting equipment, check out our top five tips for keeping lil hands, heads and legs free from injury.
Don't ride on slides with your tots. According to a new study, placing a child on your lap to ride down a slide can significantly increase the possibility of fracturing their legs. When a child's leg gets stuck against the side of a slide, the pressure from a parent behind them can cause it to bend in ways that force it to break.
Keep swinging on the swing set, not from mama's arms. Though swinging from mommy's arms may be fun, the pressure from doing so can cause lil elbow bones to be pulled partially out of joint, leading to a condition called Nursemaid Elbow that can be very painful for tots.
To see the rest of the helpful reminders,
.
.
Check the location of jungle gyms. A majority of playground injuries are a result of falls to the surface. Play structures, like jungle gyms, monkey bars and swing sets, should be anchored over at least nine inches of shredded rubber, wood chips or mulch rather than concrete, dirt or grass. The softer substances are better at cushioning falls.
Remove strings from kids' clothes. Avoid the possibility of strangulation by removing ties from hoodies and loose strings from clothing, as well as tightly tying shoelaces before climbing aboard a jungle gym.
Keep track of how hot it is. Metal slides and rubber playground surfaces in direct sunlight can quickly absorb the sun's heat. Before allowing wee ones to go down the slide, or slip off their shoes, check the surfaces with the palm of your hand to ensure they are safe for your child's tender skin.
If you have any other playground tips to share, remember to mosey on over to The Mommy Club and serve them up for the rest of us!