Plum Organic Super Puffs
Plum Organic Super Puffs: A Nutrient-Packed Introduction to Self-Feeding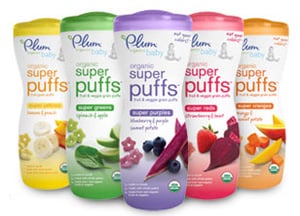 Snack time is getting a colorful makeover. Plum Organics, which already won us over with its puree pouches, is launching a rainbow-infused line of 1/4 inch puffs. Organic Super Puffs ($3 each) are available in five varieties, each made with real fruits and vegetables, whole grains, and natural sweetener. The company sent over a few containers and I put them to the test with my 1 year old.
Who is this product designed for? These puffs are designed for early self-feeders and parents on the go. The easy-to-handle container design fits right into a stroller's cup holder, while the puffs' star shapes are easy for clumsy hands to grasp.
Is it practical? With both my tots, puffs started out as a treat at the end of a meal to practice self feeding. Once they got the hang of them, they became a necessity – keeping them calm while waiting for food to be prepared, tiding them over until the next meal, etc. Plum's Super Puffs have the added benefit of combining fruits and vegetables to make me feel better about the frequency that I serve them.
What could be better? I wish they were more widely available (Super Puffs are currently available at Toys R Us and Babies R Us stores). After one taste, my tot was addicted to the "Super Greens" variety (spinach and apple), while I found myself munching on the "Super Reds" (strawberry and beet) version. So we are going through them pretty fast!
Would I buy it? Yes! I love the fruit and veggie combinations, the lack of artificial flavors and colors and the convenience of the containers.
What did baby think? My son devoured the Super Greens, quickly made his way through the Super Reds, and is now thoroughly enjoying the Super Purples (blueberry and purple sweet potato).