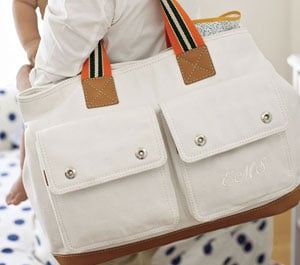 I have seen and tested more than my fair share of diaper bags, but I hadn't tried a new one since having my second babe. Double the diapers, changes of clothes and bottles and all the sudden I look like a mama off to war, which isn't a bad comparison. Before I leave the house, I have to check through three separate knapsacks to make sure I have everything I need.
Then, I realized with the new Seacliff Herringbone Diaper Tote ($149) that Pottery Barn Kids sent over for me to try out, I'd only have one bag to check. The black herringbone cotton-canvas is so stylin' that nobody suspects it holds one, let alone two tots' essentials. Large enough to pack my laptop, breast pump, some magazines and a few of my personal belongings, this may be the single carryall I've been searching for.
To see what else I love about the tote and the two things I wish it had,
.
It's an added bonus that the black twill makes it practically stainproof. And, the leather bound canvas straps don't dig into the shoulder, even with the hefty load I carry. Zippered and snapped compartments keep items buckled in and offer organization for a harried mother.
There are two things that could make the tote a tad better — a bottle compartment and a top zipper. I could easily stash a bottle in the outside compartment, but it wouldn't be able to snap it shut. The bag also has a magnetic snap closure, which is effortless, but I like the security of my goods being contained.
Overall, this is a great diaper bag. It's hip enough to pull off as a non-diaper tote, but roomy enough to use for just that and then some.