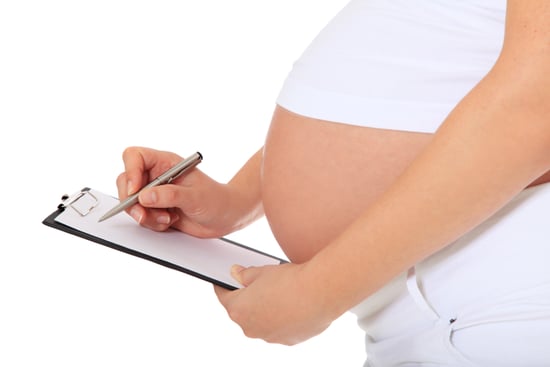 You're now overdue. Your health care provider will often start doing some testing to make sure that your baby is still doing well. The most common test done is the Non Stress Test (NST). The NST involves the placement of a small device on your abdomen, above the baby's heart, that can "hear" the heart rate. The heart rate will be traced on a strip of paper for approximately 20-30 minutes. Predictable patterns in the heart rate will let your provider know if your baby is getting enough oxygen or not. If you have a "reactive" NST, the baby is doing well and there is only a small chance for something bad to happen to the baby over the following week. If the heart rate pattern is "non-reactive" your health care provider will take the appropriate actions.
Another common test to ensure that your baby is doing well is an ultrasound. The ultrasound will allow your provider to ensure good growth of your baby and to look at the amniotic fluid around the baby. Often as the placenta gets older, the baby may not get enough nutrients to continue to grow well or the amniotic fluid around the baby goes down. If these things are noted, your health care provider will take the appropriate actions. The ultrasound will also allow your provider to look at the presence of baby muscle tone, movement, and breathing. This testing is called a Biophysical Profile (BPP). The presence of these activities are reassuring that the baby is doing well.
    
If your testing is not reassuring, your health care provider might suggest that your baby gets delivered soon. An induction of labor is often done if you don't go into labor on your own. If the baby is struggling, your birth team may advise a cesarean section.
    
Some providers will often recommend an induction at 41 weeks, even if your NST and ultrasounds are good. Studies have shown that after 41 weeks, the placenta can start to deteriorate quickly. Very few providers will allow you to go beyond 42 weeks, as the chance of problems with your baby becomes exceedingly high at that point.
Your Body at 42 Weeks Pregnant
You are now two weeks past your due date and your pregnancy is considered a post-date pregnancy. If you have not yet delivered, your health care provider will very strongly recommend that your labor be induced.

Your Baby at 42 Weeks Pregnant
Your baby is now about 20 inches (51cm) in size and weighs a little over 7 3/4 lbs. (3.5 kg). She's now overdue. The placenta is often not working as well as before, and the baby's growth is often minimal at this point; the amniotic fluid can be very low. Your baby will often have already had its first bowel movement called "meconium," which will color the amniotic fluid. It's a sticky green colored stool. At this point, your health care provider should have discussed a plan for you to induce the birth of your baby.