Pregnancy Considered a Disability
Is Pregnancy a Disability?
We're excited to share this post from our partners at BabyCenter! Every week, we will be bringing you the best parenting and lifestyle stories from the experts at BabyCenter, including this post from Stacie Lewis about considering pregnancy a disability.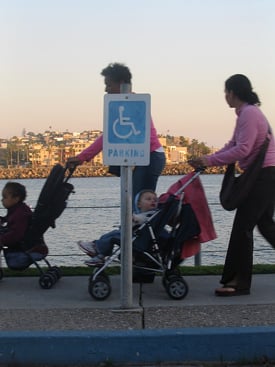 Shortness of breath. Inability to lift heavy objects. Need for specific seating. Exhaustion. Months of nausea followed by months, possibly a year, off work. Are these the markers of a disability?
Sorry, ladies. You aren't disabled. You are pregnant.
A month ago I pulled my car into a disabled space in front of a baby store. My daughter is disabled, and we have a badge. Next to me a man waited in his car, also in a disabled spot. No badge.
Related: Do you celebrate your tot's half-birthday?
I knocked on his window. I tried — and probably did not succeed on any level — to not sound annoyed. "Sorry, but you are parking in a disabled spot."
"But, my wife . . . ," he sputtered, "she's pregnant." He gestured toward the baby store. "She's inside, and I'm waiting for her."
First of all: disabled spaces are not for "waiting" in. They are for ease of loading and unloading people in wheelchairs. They are for people, like my daughter, who suffer from seizures and might need be rushed back to the car and then the hospital, so need to be as close as possible to the car.
Let's be clear, if his wife can stroll through a megababy store — it is literally the size of Kansas — she can walk the extra 10 feet across the lane to the nonhandicapped parking. She is not disabled.
However, as The Huffington Post reported this week, Jeannette Cox, a law professor at the University of Dayton in Ohio, thinks pregnancy is a disability. According to her research, the Americans With Disabilities Act should be expanded to include pregnant workers.
"The recent expansion of the ADA's protected class now includes persons with minor temporary physical limitations comparable to pregnancy's physical effects," said Cox. "This invites reexamination of the assumption pregnant workers may not use the ADA to obtain workplace accommodations."
To some extent, I agree with Cox. There is a culture of discrimination in America about pregnancy. I live in Britain and I am astounded by how little time and leeway American pregnant women are accorded. Policies and legislation that encourage women to work up until the moment of birth (and Cox encourages employers to consider that, with proper accommodation, women would be more able to do this, not less) and to return to work as swiftly as possible or else lose their job, are irresponsible in the extreme. Establishing breast-feeding, recovering from a C-section — these things all take time, and I doubt any health professional thinks only a few months, or as is the case for some women, a few weeks is long enough for mother or baby.
But a disability? Sorry. No.
Disability is a serious, life-altering complication. As such, the classification should be assigned only to those that need that level of protection and assistance. Return to my initial list of conditions: pregnant women do not require oxygen masks, care workers, wheelchairs, tube feeding — the symptoms of pregnancy are not such that a woman's life is irrevocably and devastatingly changed long-term.
As soon as we start calling pregnancy a disability, disability itself is reduced to the challenge level of pregnancy. Never forget that — though exhausting and nauseating — pregnancy will pass. Feel grateful for that and the glimpse it gives you of a more challenging life.
Do you consider pregnancy a disability?
More great stories from BabyCenter.com:
Mom jeans no more!
Did you get the name you wish?
Getting highlights gives me guilt
How to overcome the baby blues
Katherine Heigl on "failing" as a mom

Source: Flickr User elicash