We're gearing up for Oscar night with one of our favorite topics: megastars who have hit the red carpet with a baby bump. Not only have some of the biggest movie stars in the world attended the Oscars while pregnant, but some of those same stars have also taken home the night's coveted prize!
Natalie Portman [1] won the Oscar for best actress for her performance in Black Swan just a few months before giving birth to son Aleph. And who can forget Catherine Zeta-Jones [2]'s performance in support of Chicago at the 2003 Oscars — while nearly nine months pregnant?! Keep reading for more of the Oscars' best maternity moments!
Natalie Portman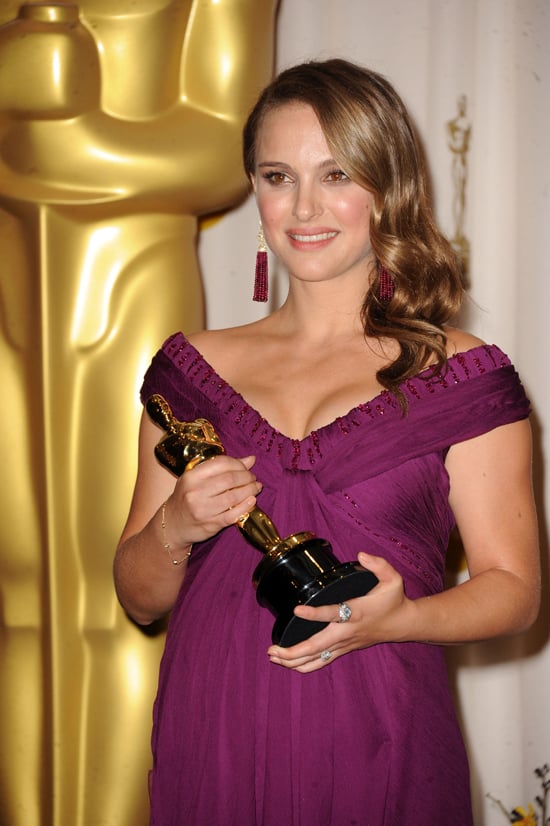 At the 2011 Oscars, Natalie Portman [3] won best actress for her performance in Black Swan, the film where she met choreographer Benjamin Millepied, her husband and father to her son, Aleph. The six-months-pregnant actress wore a stunning purple gown by Rodarte, the design duo that created her dramatic costumes for the film.
Nicole Kidman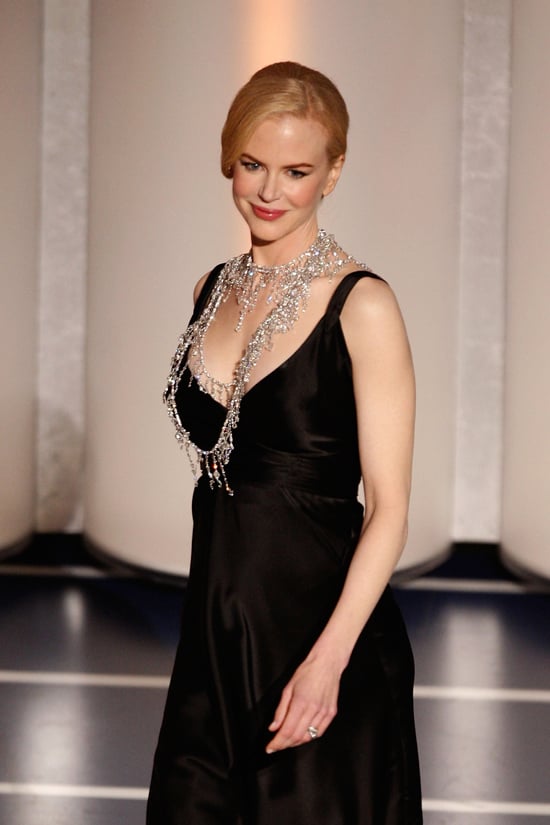 In 2008, Nicole Kidman [4] was five months pregnant at the Oscars. She wore a simple black Balenciaga black gown with a L'Wren Scott diamond necklace, which weighed in at 1,399 carats!
Catherine Zeta-Jones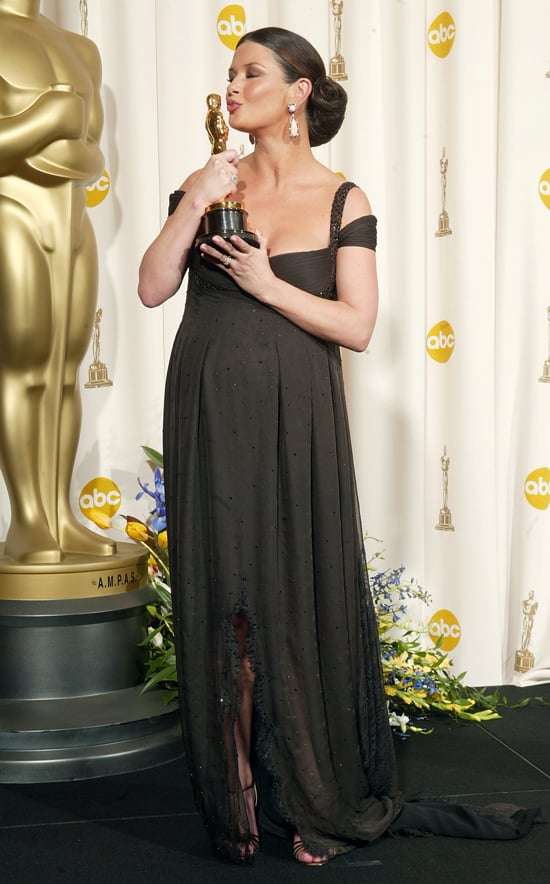 Catherine Zeta-Jones [5] won the best supporting actress trophy for her role in Chicago at the 2003 Oscars while eight months pregnant with daughter Carys. She accepted her award by saying, "My hormones are way too out of control to be dealing with this!" and even performed "All That Jazz" during the ceremony.
Cate Blanchett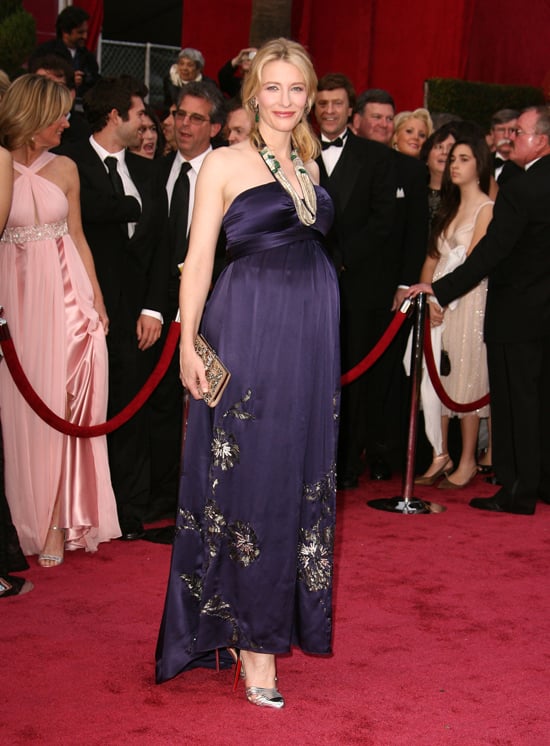 In 2008, Cate Blanchett [6] played up her pregnancy with one of the night's most fashion-forward looks: a blue satin Dries van Noten gown. Cate was nominated for both best actress and best supporting actress, but the actress, whose third child was due just a couple of months after the awards, went home empty-handed.
Paula Patton
In 2010, Paula Patton (shown left with her husband, Robin Thicke) wore bright tangerine Carolina Herrera gown at the Oscars, where she supported her film, Precious, and her eight-months-along baby bump. Her son, Julian Fuego, was born a month later.
Jessica Alba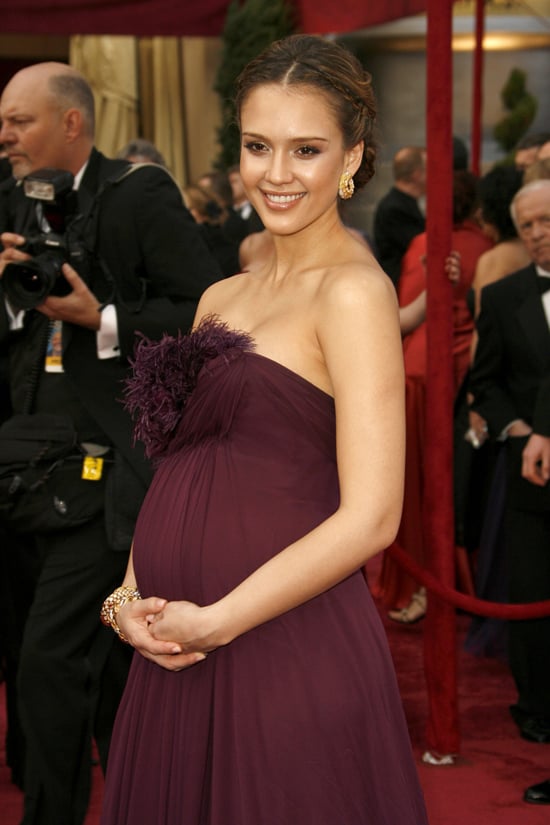 Jessica Alba [7] wasn't nominated at the 2008 Academy Awards, but her deep plum, feathered Marchesa gown; Cartier diamonds; and chic hairstyle put her on many of the year's best dressed lists. Jessica's first daughter, Honor Warren, was born a few months after the ceremony.
Marcia Gay Harden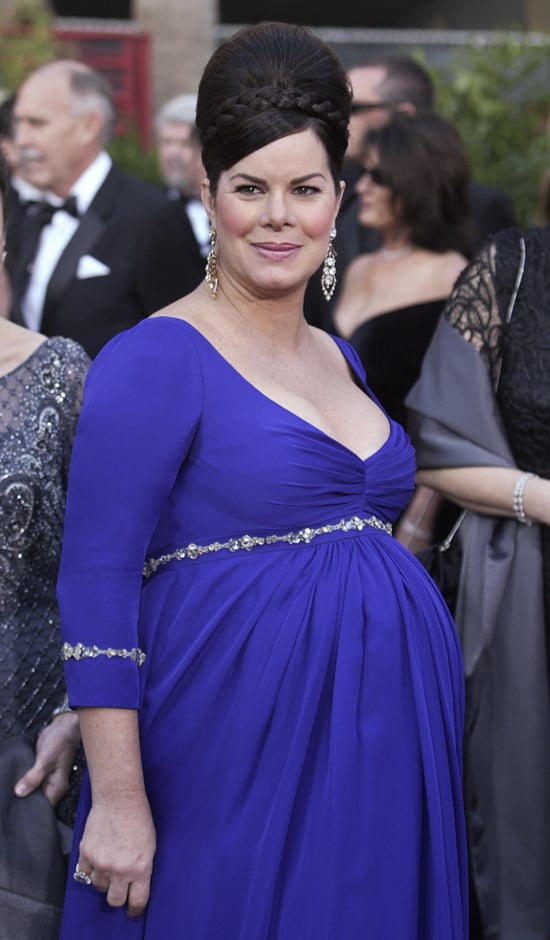 In 2003, Marcia Gay Harden hit the red carpet while seven months pregnant with twins! Her royal blue Badgley Mischka gown, lined with antique beads, celebrated her bump.
Naomi Watts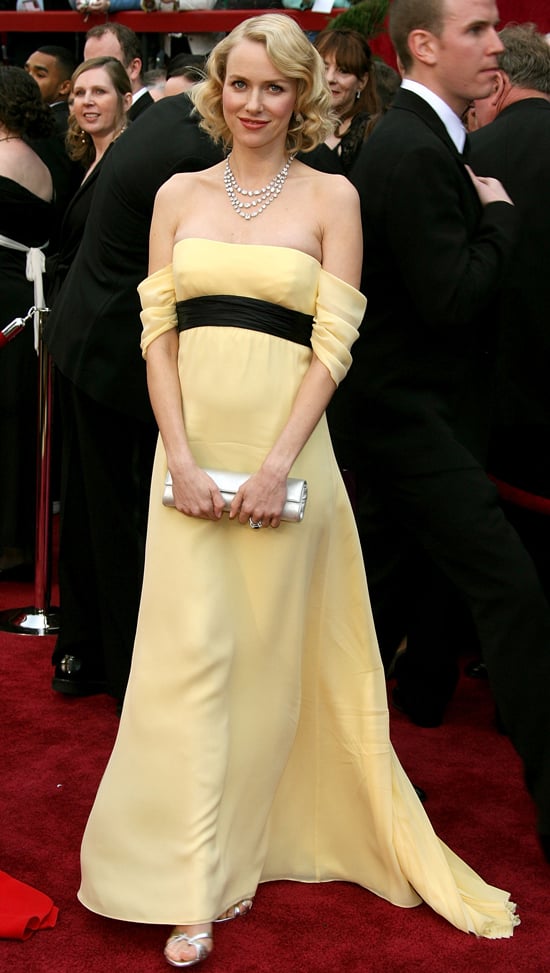 In 2007, Naomi Watts [8] hadn't yet announced she was expecting her first child with beau Liev Schreiber [9] when she hit the red carpet wearing a lemon-yellow gown from Escada. But her slight bump set off the rumor mill. The couple's first son, Sasha, was born on July 25 of that year.
Amy Adams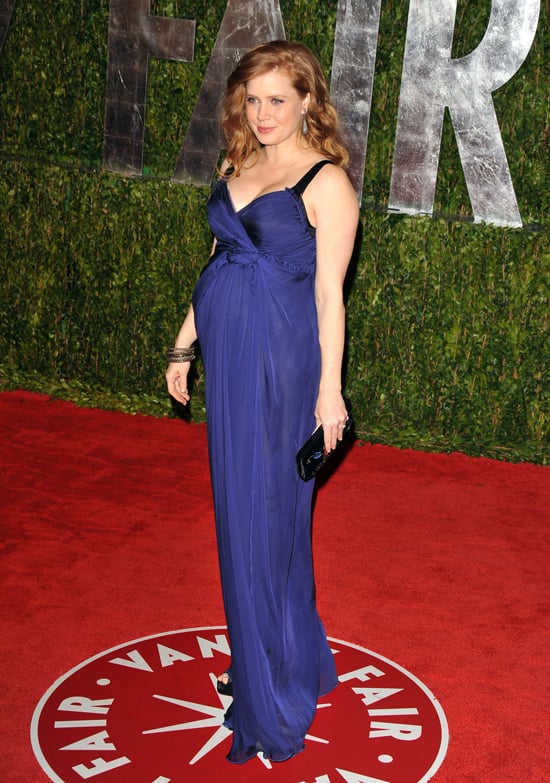 Amy didn't attend the awards in 2010, when she was seven months pregnant, but she hit the Vanity Fair Oscar party wearing a bump-revealing, bright blue Philosophy di Alberta Ferretti gown. Daughter Aviana was born May 15 of that year.
Rachel Weisz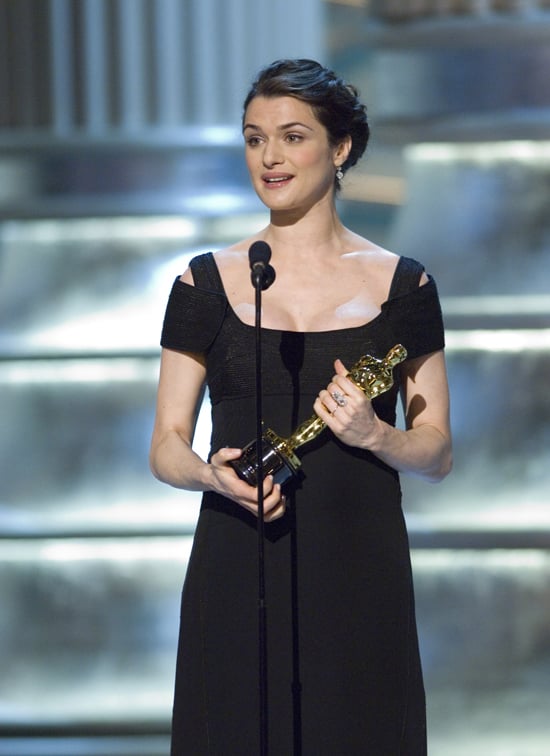 Rachel Weisz [10] was seven months pregnant at the 2006 Oscars, where she took home the trophy for best supporting actress for her performance in The Constant Gardener. Designer Narciso Rodriguez created three dresses for the actress to choose from; she chose a black off-the-shoulder gown the day of 
the ceremony. Son Henry was born in May 2006.
Molly Sims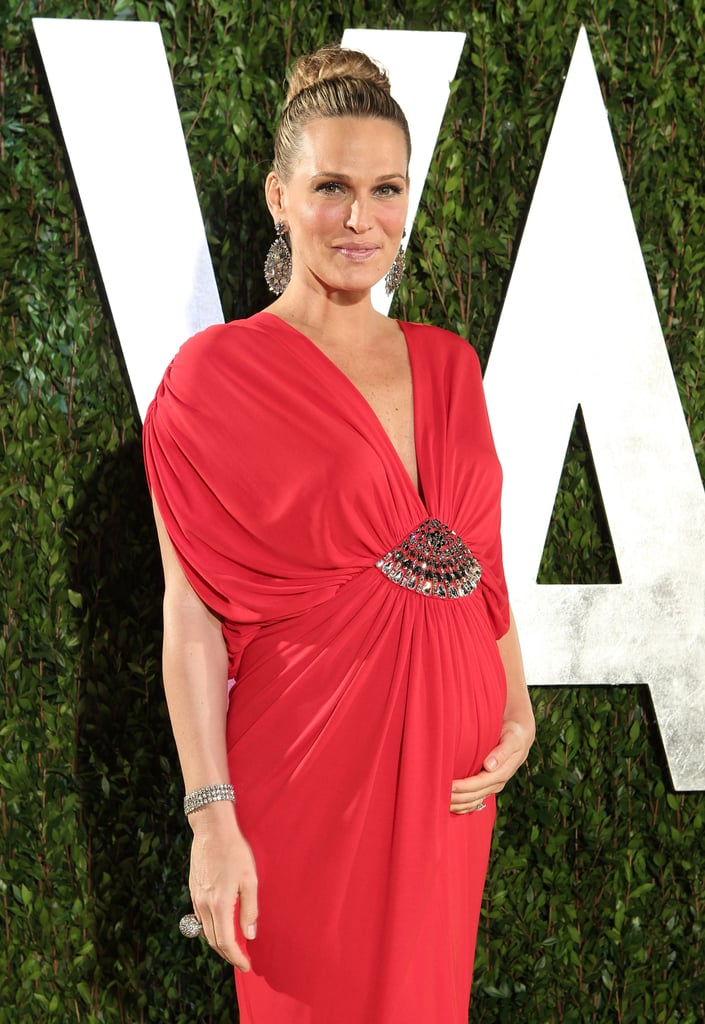 Though Molly Sims didn't attend the 2012 Oscars, she did bring her five-month bump out — in a magnificent, red Azzaro gown and towering heels — to the Vanity Fair Oscars party later that night.
Alessandra Ambrosio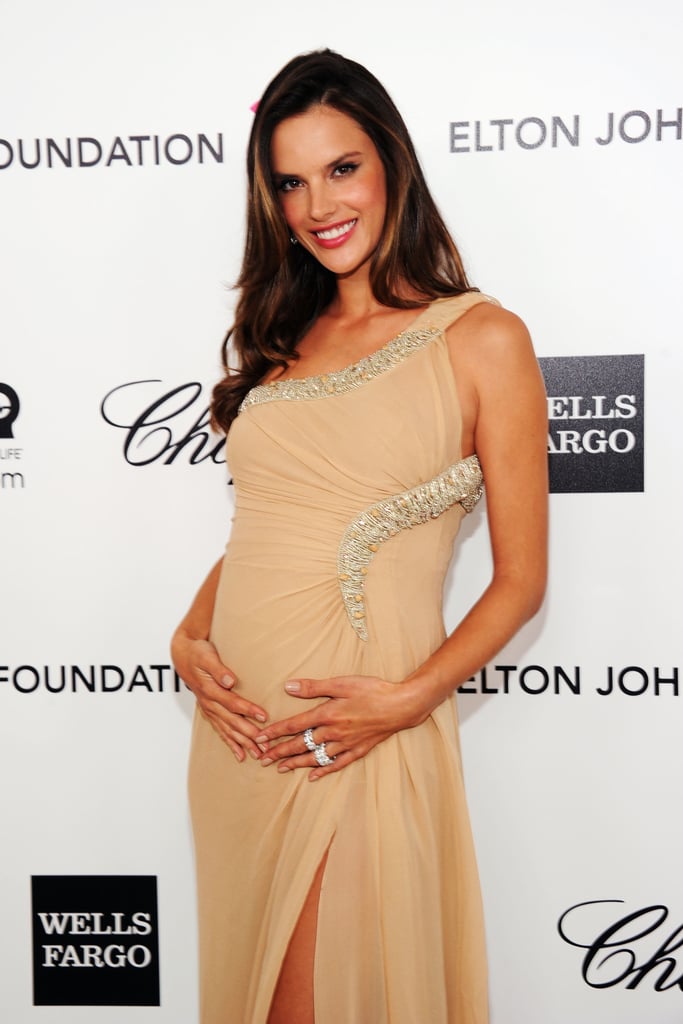 Alessandra Ambrosio didn't walk the red carpet at the 2012 Academy Awards, but she did make an appearance at Elton John's AIDS Foundation Academy Awards Viewing Party while she was pregnant with her son, Noah.
Pauletta Washington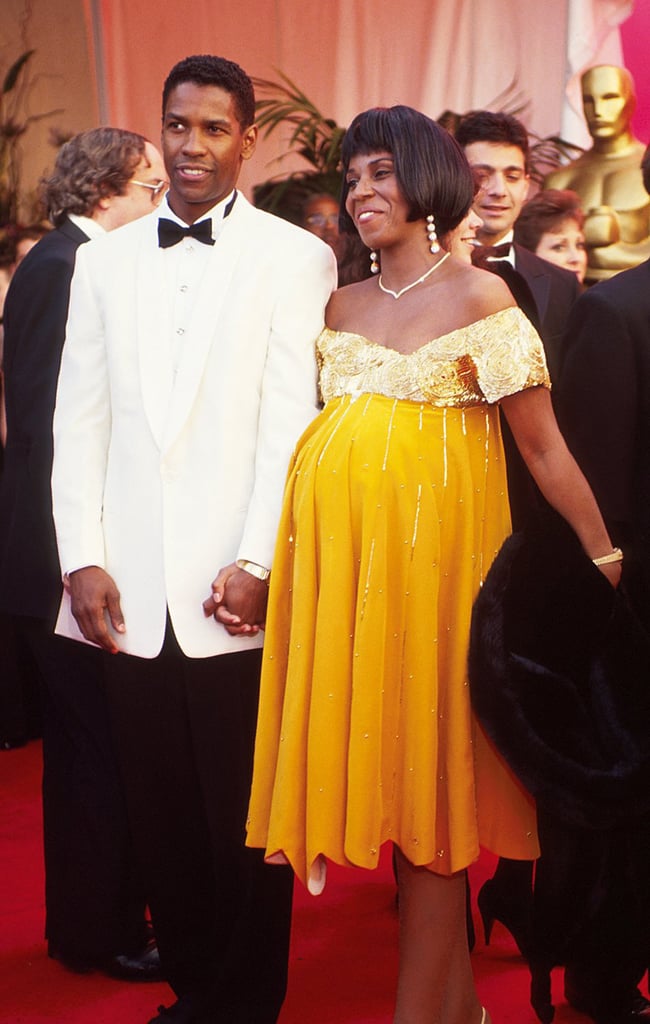 In 1991, Pauletta Washington accompanied her husband, Denzel, to the Oscars where he presented the best supporting actress award. At the time, Pauletta was pregnant with twins Olivia and Malcolm.
Georgina Chapman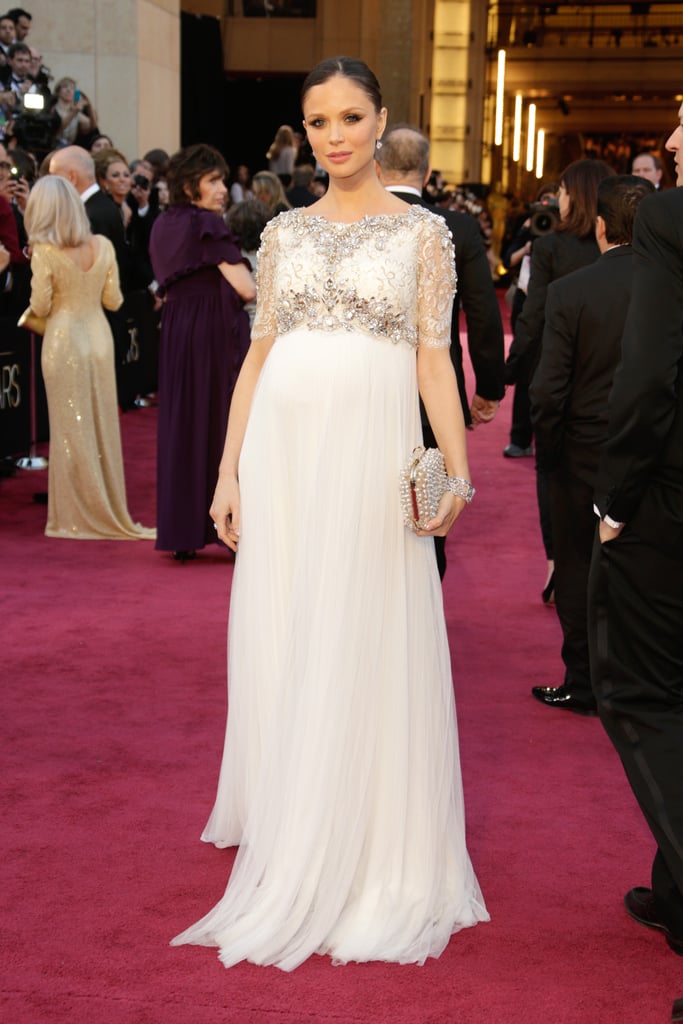 Last year, an eight-months-pregnant Georgina Chapman walked the Oscars red carpet in a floor-length dress with a jewel-encrusted bolero of her own Marchesa design.