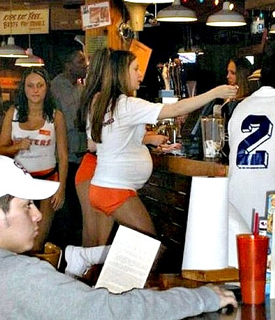 Bars may ban babies and strollers from their establishments, but should they ban a woman with child? In Roselle, IL, a bouncer seems to think so.
When an 8-month pregnant woman tried to enjoy a night out at a local bar with her friends (she was sipping water while her friends ordered shots), she was stopped by the bar's bouncer, who asked her if she was expecting. When she responded affirmatively, he proceeded to ask her to leave, explaining, "If anything happened to you here, we would be responsible."
Neither the state of Illinois, nor the town of Roselle, have ordinances regarding pregnant women, and the head of the National Organization for Women says she's not aware of any other similar incidents around the country. Fifty-six percent of LilSugar readers said they judge a pregnant woman they see drinking, but in this case, the mom-to-be was downing water. Do you think this is fair?
Source: Flickr User FredMikeRudy