Prenatal Exercise Benefits Baby
Prenatal Exercise Benefits Mom and Baby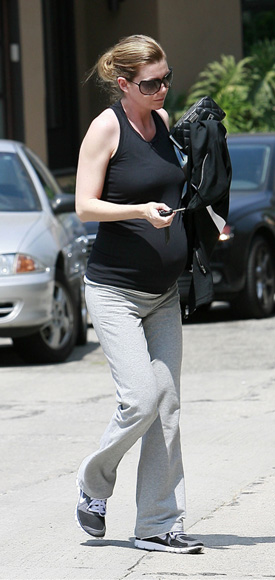 Let's get physical! The benefits of prenatal exercise have been linked to easier labors, faster postpartum recovery and improved mental health for the mama-to-be. Now, we can add healthier birth weights to that list.
The latest edition of Obstetrics and Gynecology features a study in which researchers have discovered a direct link between exercise during a first pregnancy and a decrease in the odds of delivering a larger baby. According to the study, women who exercise at least three times a week in the second and third trimesters of their first pregnancy reduce the odds of delivering a baby weighing more than 8.8 pounds by as much as 28 percent. Exercise habits before pregnancy did not appear to affect the baby's birth weight.
Many Hollywood mamas-to-be, including Ellen Pompeo, have been seen strutting their post-workout bodies around town throughout their pregnancies and with more performance-based maternity clothes on the market, it is easier than ever to follow suit. How long did you maintain your exercise routine while expecting?