Prenatal Massage Tips
Prenatal Massage: The Natural Mom-to-Be Muscle Relaxer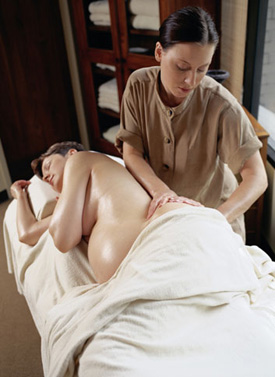 Some mamas-to-be glow and others ache. For those burdened by the physical discomforts of pregnancy, consider taking to the table and letting a masseuse reducing stress, relieve muscle tension and joint pains in the lower back and legs while increasing blood circulation to minimize swelling. The benefits of these luxurious treatments come at a price and are still debated in the medical community, but expectant women seem to agree that the trained human touch works wonders. Before booking an appointment, it is important to find a licensed therapist who has been trained to work with pregnant women.
The American Pregnancy Association recommends speaking to the therapist about using Swedish massage techniques, which include mild pressure, "because it addresses many common discomforts associated with the skeletal and circulatory changes brought on by hormone shifts during pregnancy."
For more prenatal massage tips,
.
Schedule the massage for the second and third trimesters. Though most doctors agree that there is no harm in having a massage in the first 12 weeks, most technicians will ask you to wait until you have exited the first trimester.
Look for facilities that will support the pregnant body with pillows, rather than a hole in the middle of the table. Placing a baby belly in a hole will put undo strain on the back and abdomen forcing the uterine ligaments to stretch unnecessarily.
Do what feels comfortable when it comes to clothing. Even if you usually undress completely for a massage, there is nothing wrong with keeping some undergarments on during a prenatal massage if it makes you feel more comfortable.
Speak up if a scent in the room is distracting to you. Expectant mamas have a heightened sense of smell and the burning candles may not be as pleasant to you as to a non-pregnant client.
Let the therapist know immediately if something doesn't feel right.
Drink up after the massage session. Massages release toxins from muscles into the body, so it is important to drink plenty of water after the massage to help rehydrate the muscles.