Prepacked Hospital Bag
The BFFL Mommy/Delivery Bag: Ga Ga or Gag?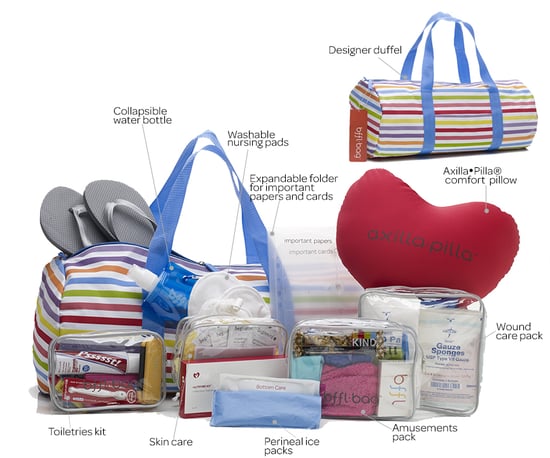 You know you're getting close to your due date when your doctor mentions something about packing your hospital bag. While some mamas have a bag (or two, or three) packed and waiting by the door for their mad rush to the hospital, others find themselves bewildered by the entire idea of gearing up for the big day.
That's where the Mommy/Delivery BFFLBag ($120) comes into play. The stain-resistant duffle bag comes packed with everything a delivering mama could need (except an epidural!) and more. From nursing pads and perineal ice packs to shower shoes, a collapsible water bottle, a deck of cards, Kind snack bars, a nursing/post-C-section pillow, and more, the bag is designed to be grabbed as you're running out the door. But all those goodies and the convenience of having someone do it for you come at a cost — the Mommy/Delivery BFFLBag costs $120, which is likely more than any mama-to-be would spend on her own hospital goodies.
So tell us: would you pay a premium for the convenience of someone packing your hospital bag for you?