Preparing Teens For the School Year
Back-to-School Resolutions For Moms of Tweens and Teens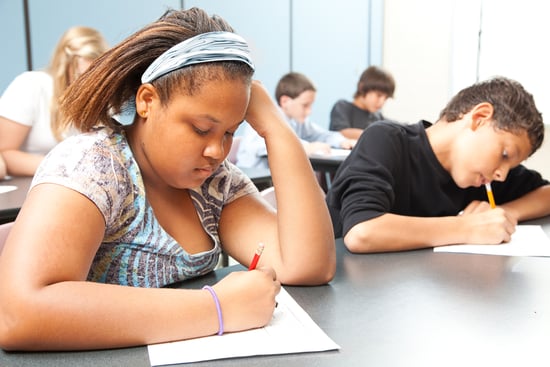 With school just around the corner, the unstructured days of Summer are winding down, and it's important for parents to start getting their kids — and themselves — back into a school-year routine. It's especially tough to try to set bedtime and other school rules with the junior high and high school set because they believe that they should have more freedom.
But the importance of a regular routine can't be overemphasized — and it must start before the first day of classes. From setting homework expectations to curfews for bedtimes, here are some tried-and-true resolutions Circle of Moms members are making to set behavior and performance standards for their teens and tweens this school year.
Establish Evening and Morning Routines
Brandy D. is easing back into the school year by enforcing school-year bedtimes over the weekend. "Start on the weekends just so you can see if it will work," she says. Determined that this year her teens will not sleep in and miss school, she's testing a new supereffective and "annoying" brand of alarm clock. "They have one's that are annoying sounding and roll off the table and end up rolling all over the floor and you have to get up out of bed to turn it off," she says.
Denise B. also is preparing her 9-year-old and teen for a strict nighttime sleep schedule. She's already begun reminding them about the bedtime struggles that occurred during the last school year and letting them know that the same penalties will apply for staying up late. Last year, when her teen missed her bus because she stayed up late, she told her: "You will just have to walk to school if you miss it."
Andrea H. has resolved to make mornings out the door to school a smooth operation for her 10-year-old this year. To that end, she's installed a closet organizer in his room and is creating a morning checklist of what needs to get done. On Sunday nights, she's going to have her son pick out five outfits for the week ahead "so there are no arguments over what is okay for school." When he's successfully completed the checklist, she says she's going to let him watch TV for a few minutes if there is leftover time before they have to leave for school.
Keep reading for more resolutions.
Set Homework Expectations
This year, Jeramie I. is instituting a mandatory study hour for her teen. She learned the hard way last year, when she says she gave in too many times to the "I don't have homework" plea. "He has to sit and do homework every single day," she says. "Even if he doesn't have any assigned work to turn in, he still has to study during this hour. This way, 'I don't have any homework, so I'm going to go play video games' is not an option. There is always something to do: reread lecture notes, practice more math problems, read a textbook, etc... When he gets used to the idea that he has to sit at the desk and work no matter what, he'll realize he might as well get a jump on that assignment that isn't due till next week." 
Saying "I have tried many other ways with her," Wynette B. is enforcing a new policy for her 12-year-old this school year to do homework immediately after school or after dinner. "I'm hoping this is best," she says. Sherri C. is also set on mandating after school for homework for her high-school-age children. "Immediately when the walk in the door from school," she says. "Period. They do nothing else until it is completed. So if they want any free time at all they have to finish all their homework."
Transition Expectations
During the Summer months and over school holidays, one mom named Julieann mandates that her teenage son help with household chores on a daily basis. But with the school year approaching, she's pulling back on that expectation and instead telling him that she wants him to focus on his school work, instead of household duties. In fact, she uses that as a way to motivate her son to study harder. "I have told my son that the higher his grades at school, the less chores he will have to do around the house," she says. "Right now, he gets A's and B's. He's always been a pretty good student. But with teens you never know what to expect. This does seem to motivate him though because I don't know any teenagers who enjoy working around the house."
Brandy D. also puts a reward system into play for the school year to motivate her 13-year-old daughter to stay focused on her academic performance. "My daughter is athletic and loves to be moving around, but when it comes to school she is so lazy and always talking about boys," she says. "She now has to sit and do her homework every night. I have taken it upon myself to highlight all the assignments that she was missing on her progress reports and tell her she has a week to bring everything home. I take things away and she gets grounded, but I also offer incentives. I use the reward system, but not just when they want it my children must work for it and keep it up."
Start the Pep Talks
It's not uncommon for teens to become apathetic to school. That's why Debra S. already finds herself gearing up for the "school is important" pep talks. "I have trouble getting all my boys to do homework, but especially my 15-year-old sophomore," she says. "He says he just doesn't want to do it. I have emphasized the importance of grades for college admission." Maisee Y. also says she is resolved to have regular motivation talks with her teenage son throughout the school year. "I ask him what he wants to be in the future and remind him again that high school counts if he wants to get into a good college," she says. She also tells him: "it's okay to hang out with his friends and do fun stuff, but he has to take care of his responsibilities first."
Start Preparing For College
It's not only vital to get teens to do their homework and get to bed on time and out the door to school in the morning, but moms of high school students like Anna T. have to also start preparing their kids for what lies ahead: college. "Always keep the next step on their mind, have them working towards something," she says. "Let them see how grades effect the schools they can go to." Also, moms of high school students should consider "taking them to college fairs and visiting schools," she says. "Make college relevant to their world."
What resolutions do you have for setting rules for your teen for the upcoming school year?