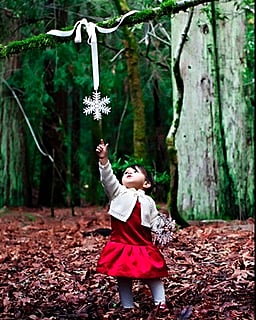 It's time for a group shot! Nancy Alcott has had plenty of practice snapping shots of newborns and energetic tots in her experience as a professional photographer, but as the holidays near everyone wants a family photo! The artist and mother of two told us her tips for capturing the perfect shot of a bunch (that includes tots). Check out her five tricks that (will make the photo shoot more fun) and try them at home!
Bribery will get you everywhere
When times get tricky, break out with the bribes. For posed shots where I need my subjects to look in a certain direction, I use anything that will grab their attention. For my own daughter that means Cheerios, but it can be anything from gummy bears to graham crackers. One hint though – stay away from chocolate and Oreos unless you're going for chocolate beards and fingers.
Squeaky wheel gets the grease
Child photography is part artistry, part stand up comedy. Be an entertainer. Use props like squeaky toys, rattles, mirrors, keys, or flashlights to get your child's attention. Even a millisecond look your way can create that prized expression you're looking for.
Call in the cavalry
When things get out of hand, use your friends. Professional photographers bring assistants. You'll want to have your own too. The nanny, babysitter, neighbor — they're all great for corralling the kids, holding props, and when needed, taking the photo for you.
To see which kid-friendly game Alcott uses to get the perfect picture,
.
Promote from within
Got slightly older children? Give them a job for the day and ask them to be the photographer's assistant to keep the younger one(s) happy and smiling. They can be lead peek-a-booer or drool wiper. Given them a job (other than just smiling themselves) keeps both the younger one interested and the older one engaged.
Game on!
Put yourself in your kids' shoes. Taking a family picture is something they already don't want to do. Getting dressed up, combing their hair, and dealing with what's most likely frantic parents that want everything "just perfect" makes any kid want to run for the hills. Instead of stressing them out (which makes for terrible photos anyway), make family photos a game. Set up the camera, turn on the music, and play musical chairs. When the music stops, everyone sits and smiles. It's a snap!