Prop Baby Cocoons: Kid Friendly or Are You Kidding?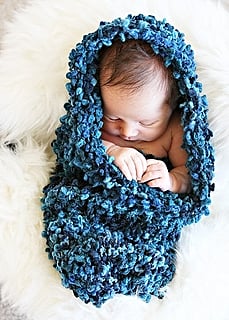 When I first saw these baby cocoons from simplybasicdesigns's Etsy shop ($45) I thought: oh my goodness! That baby is too cute! I later worried about how safe an infant might be wrapped up in such a thick body blankie, but learned the designs are mostly used by photographers as a prop during baby's first few weeks of life.
Would you wrap your baby in a cocoon for the sake of a cuddly pic, or are you squeamish about these soft knitted pouches?