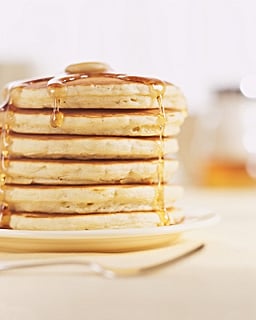 Pumpkin pancakes pumped up our little ones during Halloween, but this recipe from Lisa Barnes, author of Petit Appetit: Eat, Drink, and Be Merry, stacks up against Thanksgiving's tasty treats. Barnes recommends snacking on the cakes after the turkey is long gone. She says, "Pancakes are a great weekend family tradition as well as a sleep-over treat for all ages. These flavorful pancakes have a healthy dose of vitamin A and C and beta carotene, thanks to the pumpkin. The canned version has just as many nutrients as the fresh gourd but requires much less effort. Kids get a kick out of decorating pancakes with fresh and dried fruits, nuts and coconut." To see how to make the tasty flapjacks, just
.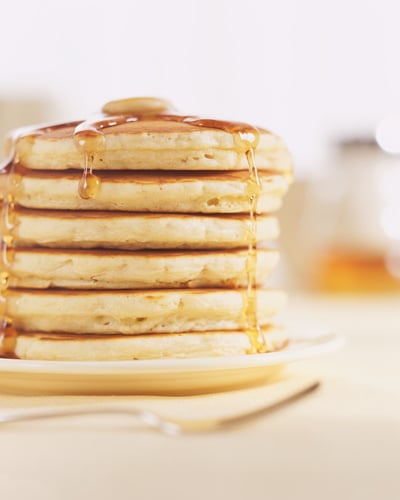 Ingredients
1 cup whole-wheat flour
2 tablespoons raw turbinado sugar
2 teaspoons baking powder
1 teaspoon salt
1 teaspoon ground cinnamon
¼ teaspoon freshly grated nutmeg
1 1/3 cup whole organic milk
1 cup pumpkin puree
4 large cage free organic eggs, separated, at room temperature
½ cup organic unsalted butter, melted
1 tablespoon pure vanilla extract
Vegetable oil spray
Directions
Preheat oven to 200F.
In a large mixing bowl, stir together flour, sugar, baking powder, salt, cinnamon, and nutmeg until blended.
In a medium mixing bowl, combine, milk, pumpkin, egg yolks, butter, and vanilla and beat until smooth. Pour wet mixture into dry ingredients and stir with a rubber spatula until blended.
In a medium, dry, clean mixing bowl, with clean dry beaters, beat egg whites with a mixer until stiff glossy peaks form when the beaters are lifted, about 2 minutes. Gently fold in egg whites into batter with a rubber spatula until just combined.
Spray a large nonstick griddle or frying pan with oil and heat over medium heat. Pour batter by 1/4 cupfuls into pan and cook until bubbles form on top of pancakes, 2–3 minutes. Flip each pancake and cook until golden, about 1 minute longer. Keep pancakes warm in the oven while cooking remaining batter.
Tip: For convenience refrigerate any leftover, cooked pancakes in an airtight container in the refrigerator for up to three days, or wrap cooked pancakes in waxed paper, seal in freezer bags and freeze for up to one month. These are perfect for quick snacks to take to school or the park, spread with nut butters or sandwich with egg.
*Makes 15–18 (4-inch) pancakes
Information
Category

Breakfast/Brunch, Pancakes/Waffles