"Puppies vs. Babies": The Battle for Cuteness Moves to TV (VIDEO)
"Puppies vs. Babies": The Battle for Cuteness Moves to TV (VIDEO)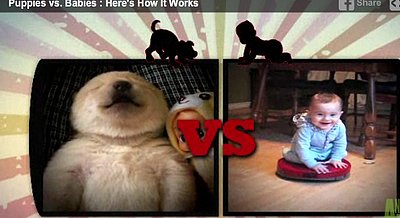 Who's cuter, your dog or your kid? If you think that's not a very fair question, you may want to avoid Animal Planet's new reality show: Puppies vs Babies. If, on the other hand, you're addicted to YouTube's amazing collection of animal videos, you may want to tune in!
The series pits 16 viral videos of baby animals and children against each other. Viewers are invited to decide who wins "the ultimate clash of cute."
The next hour-long show is set to air at 9 p.m. on Saturday, Oct. 29. Check out the video here for a preview.