Questions You Should Ask Your Kids From the Get to Know Your Kid Author
3 Questions You Should Ask to Get to Know Your Kid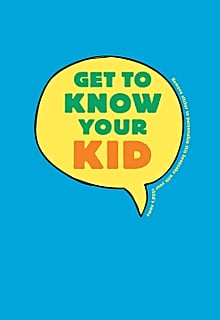 Watching your child develop into his or her own as a thinking person is one of the greatest rewards of being a parent, and if you ask the right questions you'll get a window into your little one's ever-changing world. Author Shana Noyes offers a parent's cheat sheet to Get to Know Your Kid ($17). The book, which was just released, is half guidebook and half journal with blank pages for you to archive your child's answers. We talked to Shana, a mother of two, and she shared her three must ask questions.
LilSugar: Your book offers oodles of questions you should ask your child to get to know them and help make a keepsake record of their development. What would you say are the three most important — and rewarding — questions to ask your kids?
Shana Noyes: I worked with two child psychologists on Get to Know Your Kid, and every question in the book is designed to encourage kids to open up in some way. The questions that I consider to be the most rewarding are some of the more serious questions in the book, ones that ask kids to think about profound topics and to look deeper into themselves than they might normally look.
What should you ask? Shana shares.
"When you think about everything in your life, what are you most thankful for?"

This question is designed to ask children to look beyond what they usually consider important (like recess, pizza or Xbox) and to think about what they are truly grateful for and what really matters to them on a serious level. Nine times out of ten, the answer is "My family."

"What do you think it takes to be happy in life?"
Again, this question was designed to ask kids to look beyond the material. It usually takes a while for kids to answer this question; you can almost see their minds running through options. A million dollars? A pony? After some thought, however, kids' answers consistently include the word "love." A few answers I've heard: "That your family loves you." "That you have love in your life." And my favorite, "Without love, you can't be happy."
"What do you like most about yourself?"
This question gives children an opportunity to identify and give name to aspects of themselves that they are proud of. By voicing these positive attributes, they remind themselves and therefore solidify their belief that they are good and important people. Like adults, kids compare themselves to other kids and to their siblings and they feel the same insecurities that we do. By focusing on their strengths, this question helps gives kids a sense of self-worth and well-being.