Rainy Day Activities 2010-04-14 04:00:12
Get Wet With Rainy Day Activities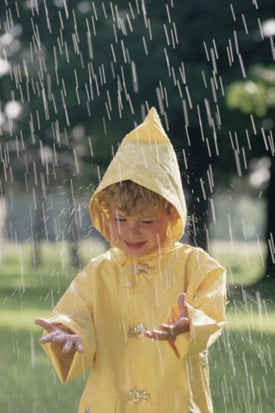 April showers may send you searching for cover, but who says that a rainy day must be spent playing quietly indoors. With a little attitude adjustment, and the proper gear, a rainy afternoon can be turned into an adventure that will have your lil one begging the clouds to come back to play.
For your rain day adventure, shed the neatnik clothes and attitude and prepare for a mess. Cover all of the adventure seekers, including mama, in protective clothing and head on outside for an afternoon your tot won't soon regret.
Puddle jumping. Remember all of the times you've told your tyke to watch out for that puddle? Now's the time to embrace it and go feet first into it! See who can make the biggest splash. Give out points for the most creative jumping style. And see just how many different sounds puddle jumping can create.
Slip and slide. No need to turn on the garden hose on a rainy day. Lay out a Slip and Slide mat, or simply some garbage bags attached end-to-end, and remember just how much fun it is to slide your way down the backyard.
Play weatherman. Teach your lil ones a thing or two about the weather and see what they come up with for themselves. Sit down and watch the clouds. Have them observe differences in the colors, shapes, and sizes. Watch which way they travel and how fast they move. See if they can predict when the next shower will come.
Go sing in the rain. Maybe Gene Kelly was right, singing in the rain can be fun. Take your tot on a rainy day mini hike where they can see the bugs and worms that come out in inclement weather. Singing rain-themed songs will keep everyone in good spirits.
Create your own traditions. In some families, rainy days conjure up memories of grilled cheese sandwiches and tomato soup. In our home, a bag of gum drops (affectionately called raindrops) were always on hand for when the skies opened up. Start your own traditions to help the kids look forward to these breaks from the sunshine.