Reaction to Jamie Oliver's Food Revolution Show
What's Your Take on Jamie Oliver's Food Revolution?
Celebrity chef and author Jamie Oliver delivered his Food Revolution stateside this weekend, and I couldn't get to my DVR soon enough. The six-episode show, which airs Friday nights on ABC, features Oliver attempting to shake up the food habits in the most unhealthy city in America (based on obesity stats and death rates) — Huntington, West Virginia. In the opener he sets his sights on teaching families, the school system, the community, and viewers at home, a thing or two about eating healthy and creating fresh foods for kids.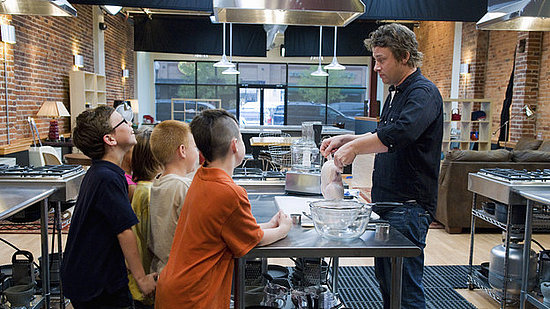 In the first episode, he causes a clash at the school cafeteria, where the team of prep chefs work hard daily to meet the national nutritional standards and feed hundreds of children on the cheap. Oliver, a father himself, isn't keen on the volume of processed foods — namely candy colored milk, pizza, and chicken nuggets — that get served to the school children and jumps in with a plan to revolutionize their meal plan. Though the show is heavily edited for the sake of creating drama, I am captivated by Oliver's mission, vision, and passion, and can't wait to watch him share healthy recipes and insight with families. Did you tune in? If so, let's dish!
Photo copyright 2010 ABC, Inc.