Rebecca Romijn Says Motherhood Hasn't Gotten Easier
Rebecca Romijn Wonders When Motherhood Gets Easier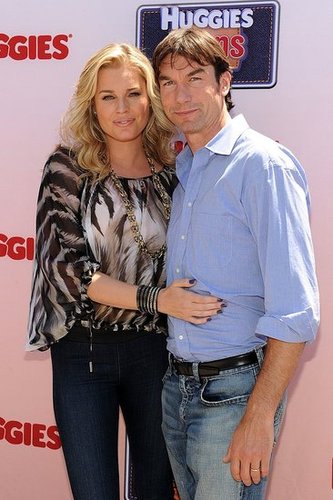 Rebecca Romijn is 16 months into motherhood and enjoying the first leg of the lifelong journey with twin daughters Dolly and Charlie O'Connell. "There's nothing dainty or delicate about these girls," the actress said during our recent interview. "But they are little princesses and we love them so much," she added. The former model and her husband, actor Jerry O'Connell are keeping their children's birth order under wraps, but she was candid when it came time to chat about being a mom.
LilSugar: Fill in the blank. You know you're a mother when ____.
Rebecca Romijn: You know you're a mother when you feel yourself into the embrace of your baby for the first time and it's immediate. It happens as soon as they're born and it's an honor.
LilSugar: Fill in the blank. Why didn't anybody tell me _____ about motherhood?
Rebecca Romijn: Why didn't anybody tell me that it continues to be really, really hard. Everyone kept telling me, "Oh don't worry after three months it gets so much easier" and then people go, "After eight months it gets so much easier". I haven't experienced when it gets easier and I have a feeling with twins it's going to be when they are a little bit older.
To see what the best trick Rebecca's parents taught her,
.
LilSugar: What's the best trick your parents taught you?
Rebecca Romijn: To really look at the experience of parenthood and to treat it as an adventure — a really exciting, magical, thrilling adventure.
LilSugar: Helicopter mom or free range kids?
Rebecca Romijn: I would say a little bit of both. You know with two of them, they are really starting to move around a lot and they are running off in opposite directions so I feel like I really should have eyes on the back of my head and be able to watch both at the same time and be able to run in two different directions at the same time and that's just not possible. But you also want them to learn about boundaries and limits themselves. You have to have faith that they will learn these lessons on their own a bit.