Recipe For Jamie Oliver's Classic Spaghetti
Delilicious: Jamie Oliver's Classic Tomato Spaghetti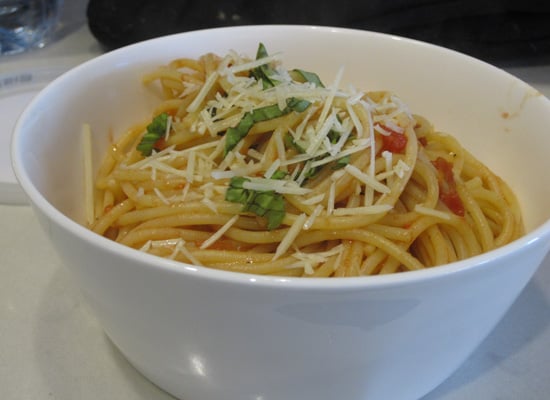 Jamie Oliver's inspiring Food Revolution is loaded with kid-friendly healthy eats, and this one is a celeb mommy favorite, too. Gwyneth Paltrow recently shared she's a big fan of the British chef and his healthy philosophy — and she also loves this easy-to-make pasta.
I tested it this week and it's a quick dinner fix that uses only a handful of ingredients and takes minutes to make. I love the fresh basil and garlic, and if your kids aren't a big fan of spicy, just use half the chile. The best part about this dish, besides being way easy on mom, is that it's customizable. While I prepped the basic version, you can always feel free to add in your kids' favorite veggies and protein to make a delicious one-pot meal. Whip it up tonight, and be sure to catch the finale of Jamie's Food Revolution with your fam.
Get the recipe when you read more.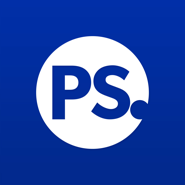 Jamie Oliver's Classic Tomato Spaghetti
Ingredients
2 cloves of garlic
1 fresh red chile
A small bunch of fresh basil
Sea salt and freshly ground pepper
1 pound dried spaghetti
Olive oil
1 x 14-ounce can of diced tomatoes
4 ounces Parmesan cheese
Directions
To prepare your pasta:
Peel and finely slice the garlic. Finely slice your chile (halve and seed it first if you don't want the sauce too hot). Pick the basil leaves off the stalks and put to one side. Finely chop the stalks.
To cook your pasta:
Bring a large pan of salted water to a boil, add the spaghetti and cook according to the package instructions. Meanwhile, put a large saucepan on a medium heat and add 2 good lugs of olive oil. Add the garlic, chile, and basil stalks and give them a stir. When the garlic begins to brown slightly, add most of the basil leaves and the canned tomatoes. Turn the heat up high and stir for a minute. Season with salt and pepper. Drain the spaghetti in a colander then transfer it to the pan of sauce and stir well. Taste and add more salt and pepper if you think it needs it.
These can be added to your tomato sauce when it's finished. Just stir in and warm through:
• Add a handful of baby spinach leaves to the sauce at the same time you add the pasta — when the leaves have wilted remove from the heat and serve with some crumbled goat's cheese on top.
• A few handfuls of cooked shrimp and a handful of chopped arugula with the juice of ½ a lemon.
• A can of tuna drained and flaked into the sauce with ½ teaspoon of ground cinnamon, some black olives and the juice of ½ a lemon.
• A handful of fresh or frozen peas and fava beans.
Information
Category

Main Dishes