Rent Baby and Maternity Clothes
Step Away From the Mall: Cut Costs (and Waste) by Renting Maternity and Baby Gear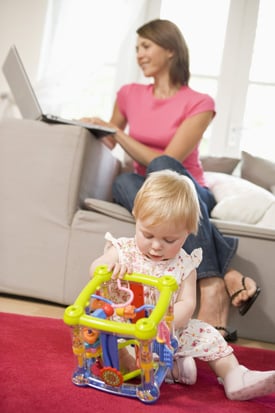 One man's trash is another man's treasure — and that goes for tots, too. Most parents learn before the baby is even born just how much stuff one tiny little bundle requires. Between clothes, diapers, toys, and books, that spacious kid-friendly home can quickly become the before picture on an episode of Hoarders, putting a real dent in parents' eco-friendly aspirations. Going totally waste-free with kids may be too overwhelming a commitment for most, but one simple way to cut down on waste and clutter is to opt for the more eco-friendly option of renting. These websites give parents and parents-to-be access to quality goods without a lifetime commitment.
Baby Clothes: Since its launch last month, Plum has been so inundated with sign-ups, that the online destination for designer baby clothes — for rent — started a wait list for interested parents. With plans starting at just $16 a month for popular baby brands laundered only in eco-friendly Seventh Generation products, parents-to-be will do themselves a favor by signing up right now. Parents looking for more specific short-term clothes rentals will appreciate bebarang, an online rental service for those "special occasion" clothes babies and kids never get to use more than once or twice before the inevitable growth spurt. Unlike Plum, bebarang is a pay-per-use service and parents only keep the clothes for up to four days, which is all you need to get through a Bar Mitzvah, wedding, etc.
Toys and Books: For the toys that tots lose interest in well before they're worn out, Toys to Trade is a free online service that allows parents to swap last month's castoffs for this month's dream toy. Keep kids interested in reading with the large selection at Booksfree; set up just like Netflix, plans start at $14 a month, and there's no due date.
Maternity Clothes: Spending a lot of money on maternity is pretty brutal. Mamas-to-be are pretty much guaranteed a maximum shelf life of 40 weeks, and even families planning for a large brood might not want to keep boxes of last year's maternity fashions around, taking up precious storage space (especially important for city dwellers). Renting maternity gear lets stylish mamas stay on top of the current trends without losing sight of their budget. Mine for Nine is the most recent addition to the world of online maternity clothes rentals, with high-end clothes from top maternity designers including Seraphine, Everly Grey, and Maternité.