Review of Evenflo Symphony Car Seat
Evenflo's Symphony All-in-One Car Seat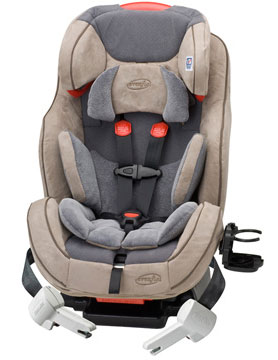 When it comes to car seats, moms can be pretty clueless. The inability to sit in them and test drive them makes buying them a rather haphazard event. In an ideal world, mums could borrow a seat for a day and roam the streets, which would allow all parties to evaluate the ease of use and comfort instead of solely relying on safety ratings and the advice of other mommy friends. Evenflo read my mind and invited me to participate in an ideal world when they sent me the Symphony car seat ($189) to test drive.
Described as an "all-in-one" car seat, the ultra-soft chair can be used for children as little as five pounds until they tip the scales at 100 pounds, which means mommy only has to buy one car seat for all of childhood. As the child grows from newborn to toddler, mom and dad will appreciate the ability to change it from its rear-facing position to forward-facing so the child can enjoy the view. The headrest can be adjusted to move up and down, and the seat itself can be launched into more of a cradle mode with one simple hand motion. With ease in mind, the designers of the seat included the SureLATCH system so that parents could install the seat rear or forward-facing with three simple clicks. Like most seats in the category, the Symphony has a 5-point harness seatbelt, which helps to keep the child in place and safest when in motion. And while it's the least of my concerns when it comes to safety, the flip out cup holder on the side of the seat is kind of genius. Giving a tot access to a water bottle will save mommy from aimlessly reaching to the back floorboard in order to satiate her screaming mimi.
To see what I would change about the Symphony, just
.
Obviously a fan, my son was asleep within minutes of his first trip in the Symphony, and that wasn't even in the cradle position. While the car seat is dreamy on almost every account, I have to admit that I was hesitant to fly with it because of its size. Probably not any different from others in the category, I chose to use my Snap and Go based seat instead so I wouldn't have to deal with the weight of the Symphony. In the end, I might have preferred the comfort of the Evenflo seat to the ease of the chosen one.
Tell us what you think of the Symphony!