Review of The Help by Kathryn Stockett
Mom-Me Time: Pick Up a Copy of The Help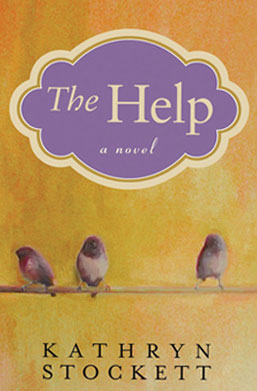 If mama's got a few minutes to herself and is looking for something that will take her mind to another world, she needs not look further than this gold and purple hardback book. The Help ($12) is a quick read that will steal her attention and her affection and leave her wanting more. Kathryn Stockett's first novel, the book about the relationships between mothers and the women that help them (nannies in particular) will have mommy laughing out loud, tearing up in the eyes, dog-earring pages with special passages and thinking about how she relates to some of the closest people in her life.
Just pages into the lengthy text and I was hooked. Unlike any book I've read in recent times, the characters in these pages immediately come to life and fully color the imagination. You can picture their hair, dream up their clothes and hear their voices like they're sitting on the bus right next to you. While they may be fictional muses, I wish I could meet them, thank them, reprimand them and have a tall glass of sweetened iced tea with them. Though the book is set back in the early '60s, some of the conversations and lessons are timeless. For the rest of my review,
.
Centered around the lives of three caretakers, the hired "help" who tend to high society's children may occasionally be called "mama" as they often forge a closer bond with the child than his own mother. And while some women may have their best friends to rely on, the housekeeper frequently knows and cares more than her "best" friends —the phrase "dirty laundry" having a double meaning when it comes to life behind closed doors. In the end, it is a story about women taking extraordinary measures to right some wrongs, even if it means risking it all. Of all the lessons to be learned from this rich novel, the golden rule speaks loudest — "Do unto others as you would have them do unto you." Maybe that's why she wrapped it in a glowing cover.
Before this goes to the theaters, which it surely will, buy it, read it and gift it to everyone you know. It will not disappoint.

Share your favorite books, products, toys and trends with other parents. Join our Product Reviews group over in the LilSugar community!