Review of Kidz Bop 19 CD
Kidz Bop 19 CD Will Have Your Kids Falling in Love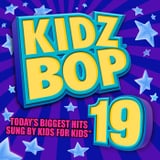 I'll never forget the day I was driving down the street with a friend, and we realized her daughter, who at three was just beginning to chat with ease, was singing along to "Get Low," by Lil Jon in the back seat. You know, the oh-so-pleasant "to the window, to the walls...til the sweat drip down my..." — I'll let you Google the rest of the lyrics.
Catchy pop songs may get a radio edit before they hit the airwaves, but even some censored lyrics are just obscene enough that it's uncomfortable to hear children repeating them. The options are to keep the radio off, give in, and let kids hum along (typically unaware of any meaning), or constantly switch the channel. The all too common conundrum must be why Kidz Bop CDs, which are kid-friendly collections of pop songs sung by kids, are such hits.
The latest release, Kidz Bop 19 ($14) features kids crooning to 16 hot tracks including Usher's "DJ Got Us Falling in Love," Katy Perry's "Firework," and Taio Cruz's "Dynamite." If you and the family are fans of the franchise, you'll be happy to play DJ with this album. It's a CD for children, but the upbeat choir arrangements are fast, fun (as always there's a definite "sharing is caring" theme, giving all voices ample solo parts) and won't make you cringe. That is, until they get stuck in your head.