Review and Photos of Ikea Blames High Chair
Ikea's $60 High Chair Keeps Baby Seated and Eating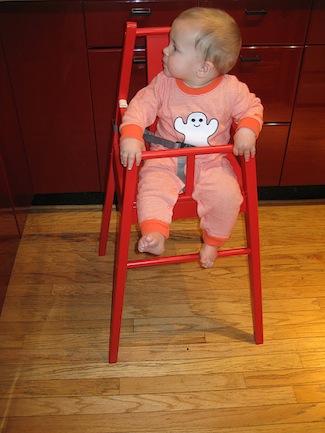 When I was still pregnant with my son, my mother-in-law, a woman of excellent taste but also a healthy dose of practicality, told me that I should forget about investing in the expensive high chair I'd had my eye on. "Get that cheapie Ikea one for $20. It cleans up better than any other high chair I've seen, and it works great."
I couldn't bring myself to buy the Antilop, though, because I didn't want a big piece of plastic cluttering up our small house. In the meantime, on a whim, I bought a ridiculous wooden highchair in the shape of a bear that could be turned on either side to form a desk or a rocker. I kid you not. The thing is gigantic and weighs at least 50 pounds. Talk about cluttering up our small house! So, when Ikea sent me one of its new Blames high chairs to try out, I was delighted to give it a whirl.
Who is this high chair designed for? The Blames high chair ($60) is perfect for price-conscious parents who appreciate sleek Scandinavian designs and a smaller high chair footprint in their homes.
Is it practical? Definitely. It took only 20 minutes (at most) to assemble and is surprisingly sturdy. Sometimes I worry about the wear and tear potential with Ikea furniture, but this one's a keeper. Its main parts are crafted from solid rubberwood, and although the back and seat are fiberboard, these parts seem durable as well.
What sets it apart? The Blames has a universally appealing design that would work in a country bungalow or an urban loft, and while it's small, it's roomy enough to accommodate my big-and-tall 99th percentiler to keep sitting comfortably in it for a long time to come. It also comes in two great colors: fire engine red and jet black.
What could be better? Ikea offers a seating pad for its high chairs, but the Blames could also benefit from a little headrest (I might sew one up this weekend). My baby banged the back of his head on it several times while I attempted to wipe his face off after meals. If you have a thrasher like I do, consider cupping his head in your hands as you attempt the dreaded face wipe postmeal. I also think it would be great if more colors were eventually introduced.
Would I buy it? Absolutely.
What did baby think? My guy loves the huge, half-moon-shaped tray that it comes with (unlike the Antilop, which requires you to buy the tray separately, the Blames comes with a tray). His old high chair had a tiny tray, which meant that Mom spent most of her time picking food bits off the floor. He definitely feels more comfortable and happy in this high chair, too, judging from the number of smiles and leg kicks he issues while sitting in it.