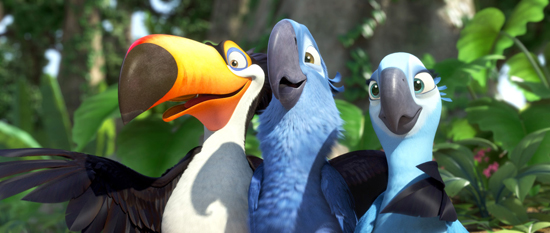 No need to pack the sunscreen and bathing suits for this trip to Rio! Theaters are filled with animated 3D films for tots, so it takes a lot for one to stand out from the pack. Rio, which enters theaters April 15, does just that with its mix of color graphics, lively characters, and toe-tapping musical sequences.
The story of Blu (voiced by Jesse Eisenberg), a rare blue macaw hatched in Rio but snatched by smugglers who transport him to Minnesota, and Jewel (voiced by Anne Hathaway), the world's only other blue macaw who is living in captivity in Rio, takes us on the birds' journey as their owners try to mate them. After a series of kidnappings, some hijinks created by troublesome monkeys, and a high-speed chase through the middle of the city's legendary Carnival festival, the ending may be predictable, but getting there is still fun.
Keep reading to see if the new flick is appropriate for tots!
Made by the same people who gave us the Ice Age franchise, tots will love the slapstick, physical comedy that takes place throughout the film, as well as some of the memorable songs sung by supporting characters voiced by will.i.am and Jamie Foxx. Younger ones may find the villainous, red-eyed cockatoo Nigel (voiced by Jemaine Clement) a bit scary to look at and listen to, but his scenes are quickly waxed over by sillier ones featuring George Lopez's Carnival-loving toucan, Rafael, and Tracy Morgan's slobbering bulldog, Luiz. Mom and dad will be drawn in by the beautiful, colorful images that instantly transport them on a 90-minute vacation to the hopping city of Rio.
Source: 20th Century Fox