Review of the Woombie Swaddle Sack For Babies
Mommy's Lil Helper: The Woombie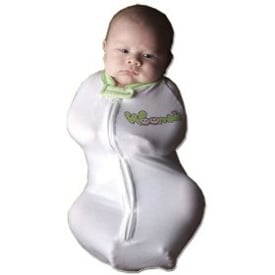 Calling all lil Houdinis! Moms know that newborns love the warmth and security of a tight swaddle. The practice, which can be traced back to the Greeks and Romans, re-creates the feeling of the womb, preventing babies from startling themselves mid-sleep, helping them obtain REM sleep, and possibly even helping to prevent SIDS. Obtaining the perfect swaddle — one that even the strongest babies can't break out of — is a feat that many mamas can only hope to attain.
For years friends have sworn by the effectiveness of the Miracle Blanket in transforming their newborns into sleeping baby burritos, and several other brands have come up in recent conversations. The latest one to catch my attention is the Woombie ($25), a cocoon-like sack with a zipper up its front that will not unravel over the course of the night. Made with a cotton and Lycra blend, the peanut-shaped sack is snug enough to give babies the comfort of a traditional swaddle, but stretchy enough to allow babies to stretch their arms and legs and wiggle their way to comfort.
Our Sugar HQ moms who tested the Woombie found that their babies slept longer and more comfortably in it than in similar products. Though they were originally taken aback by the straight jacket-look, they found that their babies were comforted by the fabric and were happy when they awoke each morning. In fact, both moms just ordered larger sizes of the sacks as their tots have outgrown their newborn versions.
Share your favorite products, toys, and trends with other parents! Start sharing your opinion on millions of must haves for your tots in our Product Reviews group!