Review of YBike Balance Bike
YBike Will Have Tykes Riding in No Time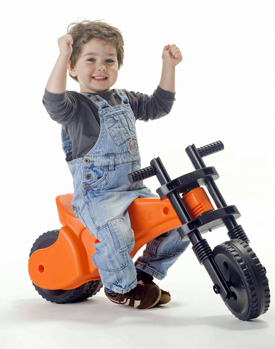 Run like the wind. Any mama who's visited a park in the past two years knows the balance bike craze is showing no signs of slowing down. The bikes, long a teaching tool for lil ones overseas, have reshaped the way American tykes have learned to ride a two-wheeler.
The latest to join the lineup on the bike rack is YBike ($80), a plastic version of the bike that is designed for the younger tots. With a unique motorcycle-like design, including an extended front fork angle, and available in four bright colors, the bike is sure to catch kids' eyes. The company sent over a fun orange version for us to test. Keep reading to see what I thought.
Who is this product designed for? Though the instructions that came with the bike state that it is designed for tots ages 2-5, it seems better suited for younger ones, probably 2-4 that are ready to move beyond the tricycle.
What sets it apart? The lightweight, injection molded plastic makes for a light bike that can easily be transported to various locations. With two closely aligned rear wheels, the bike is more stable than traditional walking bikes, and it can stand independently, a real plus for teaching lil ones to turn and stop. It can also be used both in and outdoors, making it great for enthusiastic kids who insist on riding their bikes at all times.
What could be better? We found the steering column, and wheels, to be a bit stiff, slowing the biking experience. While this is great for a new rider, more experienced ones may find it discouraging. The plastic wheels also make for a louder, less smooth ride than their rubber, pressurized cousins.
How long did my child ride it? Though my son is used to a metal bike at school, he was very comfortable on the YBike and rode it for a half hour straight.
Would I buy it? If I were buying a gift for a 2-year-old, I would buy this bike in a second! For older tots, who are closer to riding a two-wheel bike, I would seek out a balance bike with rubber tires and only two wheels for an easier transition to a pedal bike.
Share your favorite products, toys, and trends with other parents! Start sharing your opinion on millions of must haves for your tots in our Product Reviews group!