Rick Bayless Balsamic Green Beans Recipe
Eat Your Greens: Rick Bayless's St. Patrick's Day Green Beans For Kids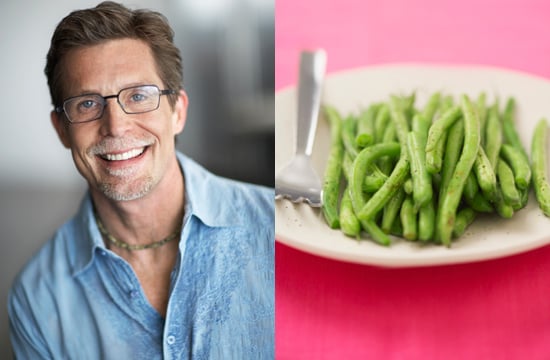 Never thought you'd see your lil one pick up a green bean and eat it? Maybe it was never properly prepared! In honor of St. Patrick's Day, we're lining up a menu of green vegetable dishes that tots will actually want to eat! We asked award-winning chef, Top Chef Masters champion, and father of one Rick Bayless to share a tot-friendly green vegetable dish with us for the holiday. He's created a balsamic green beans recipe meant to entice kids with its sweet and sour taste.
I know this recipe looks uninspiringly simple — but it's exceptionally good. It offers everything green beans need: enough cooking to mellow their flavor, garlic to give them a tantalizing aroma, and balsamic vinegar's dark, syrupy, sweet-sour glaze to draw you back bite after bite.
Keep reading to get Rick's delicious balsamic green beans recipe.
Ingredients
12 ounces (4 cups) green beans
Salt
2 tablespoons olive oil
1 large garlic clove
1 ½ to 2 teaspoon balsamic vinegar
Directions
Do This First
Green beans: Break stems and little tips off green beans
Garlic: Peel

1. Blanch green beans. In large (6- to 8-quart) saucepan, bring 4 inches water to boil over high heat. Add 2 teaspoons salt. Add green beans and cook 7 minutes (5 minutes for the little French green beans). Drain and spread out on large plate to cool.

2. Sauté and serve green beans. Pour oil into large (10-inch) skillet. Set over medium heat. Crush garlic through garlic press into oil. Add green beans and cook 3 or 4 minutes — stir continuously — until beans are hot. Sprinkle with about ¼ teaspoon salt. Stir to season evenly. Scoop onto platter. Slowly and evenly pour vinegar over beans. Serve right away.

NOTE: The green beans can be regular ones, yellow ones, or the skinny little French ones called haricot verts. Or they can be snow peas or sugar snap peas. Everyday balsamic vinegar is available in the grocery store, but you can find very special "artisanal" balsamic in specialty stores. Some of it is so expensive you want to call it black gold.
Information
Category

Vegetables, Side Dishes