Rikshaw Designs Introduces Pint-Sized Boho Style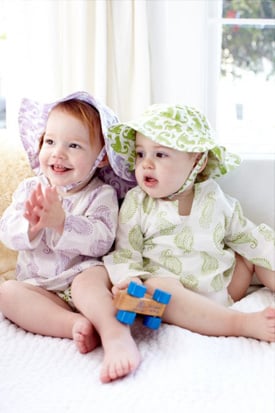 If a visit to the playground leaves you wondering if there is an alternative to the humdrum tees every tot is wearing, get ready to add some boho-chic to your closet.
Rikshaw Designs, the San Francisco-based company behind the beautiful block-printed crib bedding sets, has added to its Indian-inspired designs with a collection of kurtas ($40), bloomers ($22), sunhats ($30) and sleep sacks ($44) that will leave baby cool and crisply dressed this Summer. The paisley, flower and seahorse patterns are canvased directly onto the 100 percent cotton voile pieces and finished off with whipstitching across the sleeves and bottoms of each garment. Mixed and matched, the tops, bloomers and sunhats can be combined to create whimsical outfits that separate your lil one from the pack. And if you find yourself drooling over your wee one's new wardrobe, don't despair. The company plans to introduce grown-up versions of its fanciful tops later next month – just in time for Summer vacation.