Robert DeNiro Compares Movies to Children at Golden Globe Awards
Three Memorable Family Acceptance Speech Mentions at the Golden Globe Awards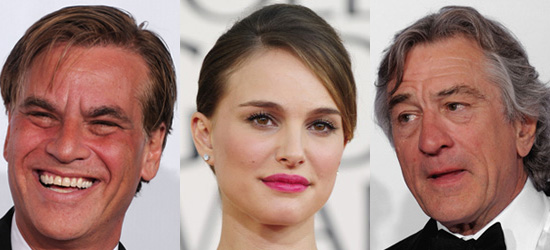 Upon accepting awards, many of Hollywood's most talented artists thank God or their family members. Tonight was no different with recipients acknowledging everyone from their nephews to grandparents. Here are the three mentions that I thought were the most memorable!
"I want to thank all the female nominees tonight for helping me demonstrate to my young daughter that elite is not a bad word, it's an aspirational one. Honey, look around — smart girls have more fun and you're one of them. I love you!"— Aaron Sorkin, winner best screenplay for The Social Network.
"You do the best you can with your children. You do the best you can making movies. At a certain point you just have to let both of them go and hope for the best...And for the children, you just hope the movies do well enough so you can keep them in private schools." — Robert De Niro, Cecil B. DeMille Lifetime Achievement Award.
"I also want to thank you for the opportunity to say hi to my grandma Bernice in Cincinnati who's watching at home. I hope you're having a drink, Grandma, and enjoying this!" — Natalie Portman, winner best dramatic actress for Black Swan.