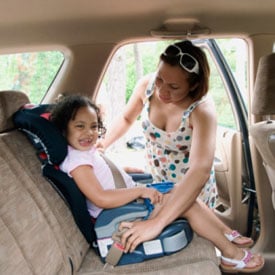 One more good reason to send the kids to grandma's for the weekend! A study published in Pediatrics found that kids are actually safer in crashes when driven by grandparents than when driven by their parents. And not just a little bit safer — taking risk factors like proper seat belt use and type of car into account, the study concluded that there's a 50 percent reduction in injury risk with grandparent drivers.
Busy parents spend an awful amount of time in the car. How much do you know about carting your kids around safely?
How Much Do You Know About Car Safety?
Children should sit in a booster seat until what age?