Samsung Galaxy Camera Good For Moms?
Samsung Merges Camera and Tablet: But Is It Right For Mom?
What's the one item mamas reach for most in their diaper bags? No, not wipes, and not burp clothes, but their smartphone, so they can snap pictures of their tot making a funny face or doing something for the first time and then share the picture with family, friends, or Instagram followers. The problem is, those photos aren't always crisp and clear, and if you swap out your smartphone for a DSLR camera, you get great images but can't share them immediately.
That's where the new Samsung Galaxy camera (starting at $599) enters the picture. A cross between an Android tablet and a point-and-shoot camera, the Samsung Galaxy may be the smartest camera on the market. As a Facebooking, Instagramming, and otherwise social mom, who lugs her DSLR camera around town and then has to run home to download and share photos, is it for me? Samsung sent me a Galaxy to test and I spent most of my Winter break trying it out. Here's what I thought: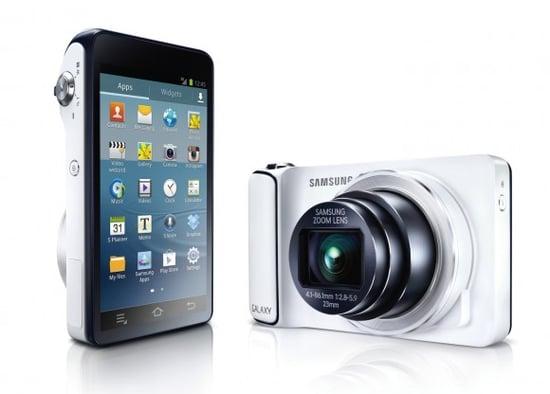 Who is this product designed for? People who love to take high-quality photos and share them with friends and family — instantly. While the Galaxy looks like a regular camera from the front, from the back, it is a handheld tablet powered by Android 4.1 (Jelly Bean) with a 4.8-inch HD Super Clear Touch display. With built-in WiFi and the option to connect via 3G/4G to Verizon and AT&T networks (for an additional data plan), you can surf the web, download apps, and instantly share pictures on all of your social networks in an instant.
What sets it apart? As the first combined tablet and camera, the Samsung Galaxy offers more than either individual device on its own. As a photo-loving mom, my favorite features include:
The Android operating system. I love my iPhone, but the Droid operating system is easy to use and offers access to Google's Play store with more than 600,000 apps to be downloaded — including photo-editing apps to make the pictures even better.
The 16.3-megapixel camera. While most DSLR cameras offers large megapixel photos, most smartphones are lacking in this department (the current iPhone 5 only has an 8-megapixel camera). The difference can be easily detected in the photos.
The 21x optical zoom. Try to zoom in on a subject with most smartphones and not only are your images distorted, they don't even zoom much. For the parent trying to capture their kid on the soccer field or on stage for the school play, the Galaxy's 21x zoom is truly an added benefit.
Best Face. The Galaxy's "Smart Mode" offers 15 settings for taking photos in special situations (e.g., night, waterfalls, etc.). The "Best Face" appears to have been created specifically for parents. Simply select the mode and hold down the button, and the camera takes five shots in a row and presents you with a final photo featuring the best faces in the picture. Just tap each face, and you'll be presented with the five images so you can manually select the smile you like for each person. Then hit "done" and the composite is saved. For any parent that's ever tried to take a group shot, or capture siblings smiling, this feature is a godsend.
Keep reading to see what could be better and my final verdict on the device.


What could be better? While I loved the camera's connectivity and special shooting modes, there is some room for improvement. Most of us are used to carrying smartphones around with us, and over the years, they've grown smaller and lighter. The Galaxy can actually feel bulky at times. At an inch thick, five inches wide, and weighing 11 ounces, it is much bigger than your standard smartphone, so it can't fit in a pocket when you're headed to the playground (but it is much smaller than your DSLR). Also, the camera's battery life is definitely lacking. While it does offer a power-saving option, the use of WiFi and mobile data drains the battery so fast that it can barely make a full day of shooting. Tied to the battery life is the camera's slow start-up. Like most smartphones and tablets, the camera takes a while to boot, so if it is in full shut-down, you can easily miss a photo op while waiting for it to power up.
Would I buy it? They say the best camera in the world is the one that's with you, which is why so many parents love their smartphones. Since my kids were born, I've learned to love the quality my DSLR camera brings to the table (I'm frequently disappointed with the images I take on my smartphone), but it's just too bulky to take everywhere when I'm also toting tots and their stuff. I love the photo quality and connectivity of the Samsung Galaxy — being able to email and upload photos right from the phone is amazing — and the "Best Face" feature makes it a fun toy, but without phone features, the Galaxy doesn't help lighten my load; it actually weighs it down. If I didn't already spend a fortune on my DSLR, the Galaxy would be perfect for me, but given the cost (and the weight), I'll pass until it includes phone features.
Share your favorite products, toys, and trends with other parents! Start sharing your opinion on millions of must haves for your tots in our Product Reviews group.