Should Children Have TVs in Their Bedrooms?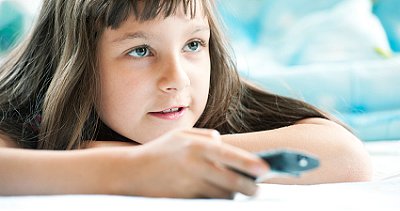 Should you put a TV in your child's room? If one thing is clear from the many Circle of Moms conversations about TVs in kids' rooms, it's that there are many valid points of view on the issue. To help you decide which strategy will work best for your family, here are three key questions to consider.

1. Can You Still Monitor Their Screen Time?
Many Circle of Moms members say they won't put a television in their child's bedroom because he might watch inappropriate shows or too much TV.  Becky F. reasons: "Our kids won't have a TV, video game console, or computer in their room. It becomes too hard to limit what and when they watch as they get older, I think. Of course, we could limit it a bit by not connecting the cable, but it would be hard to prevent them turning it on and watching it when they should be sleeping." And Cat B. shares: "I still want to be able to send my kids for a time out in their rooms knowing they're actually thinking about what they did wrong, not flipping channels or popping in a movie."
But moms like Dyan B. say they can monitor how their kid uses the bedroom TV as easily as they can any TV in the house, insisting "It's all in how you handle it."  The consensus among moms whose kids do have TVs in their rooms seems to be that it's fine as long as there are limitations and rules. What kinds of restrictions? Some restrict cable ("Gotta love child-locked T.V.," says Amie T.); others only allow DVDs or keep keep gaming systems hooked up exclusively to the family TV.

2. Will Your Child Watch it All The Time?
The answer to this question seems to depend on your child's personality. Many moms decide against TV in the bedroom because they worry their child will want to watch it constantly. As Joy B. explains: "I feel like it would be starting him on a path towards inactivity. I try to limit how much TV he watches and I try to keep him outside playing as much as possible."
But not all children have couch potato sensibilities. As Courtney R. relays: "My son got a TV in his room at 4 years old. He NEVER watches it. He would rather be outside playing with his friends or riding his bike." Similarly, Jane M. shares: "My children (now 20 and almost 17) both had TV's in their rooms by about 5 or 6. And ya know what? TV was never that big of a thing for them because it wasn't an unattainable thing. They are huge readers, exercisers, love being outside, lots of extra curricular activities in school, etc."

3. Is TV Watching a Family or Solo Activity?
Many moms feel TV watching should be a communal, family activity. "I'd like the TV to be something that we can watch for a little while each night as a family," Krista M. explains. "Not something that has my son alone in his bedroom for hours." And Angie B. agrees: "In our family, we don't allow it because we think it encourages children to isolate themselves more than they already do. For the most part, we watch TV as a family."
But alone time isn't necessarily a bad thing, say other moms. Cathy S. found her autistic son calmed down more quickly after school when she allowed him to watch TV in his room: "We previously had all the game consoles in the living room. By moving them to his room he actually spends less time on them. He winds down quicker after school too for spending a bit of time on his own. It's actually helping his autism."
And Jodi A. claimed some much-needed alone time for herself and her husband by giving her teenage step-daughter a TV: "She used to sit up and not give hubby and I any space, so by giving her a small TV, it gave us this, LOL."
Other moms say that watching TV in the bedroom is part of family time, specifically as part of a nighttime routine for young children. As Cassie S. explains (of her 23-month old daughter's bedroom TV): "We use her TV once a day, just before bed…I think it works for us because there is no cable in her room and it is strictly used for a very short amount of time while I nurse her baby sister."