Should Children Under 5 Have Hamsters as Pets?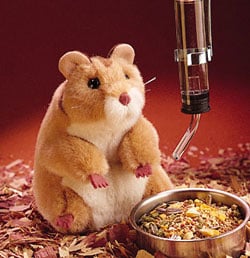 Just about everyone has heard a hamster horror story, from the critter that fled its cage and burrowed into the furnace, to the pet who leaped from his owner's lap and found his fate in a collapsing La-Z-Boy. But now, experts are attributing another reason for why children under 5 should not keep the rodents (as well as others like hedgehogs, baby chicks, lizards and turtles) as pets — the kid's health.
One report said:

About 11 percent of salmonella illnesses in children are thought to stem from contact with lizards, turtles and other reptiles, Pickering said. Hamsters also can carry this germ, which can cause severe diarrhea, fever and stomach cramps.
What's your opinion?