Siblings With Birthdays the Same Month
Do Your Kids Have Birthdays in the Same Month?
We're excited to share this post from our partners at BabyCenter! Every week, we will be bringing you the best parenting and lifestyle stories from the experts at BabyCenter, including this post from Denise Cortes about siblings sharing a birth month.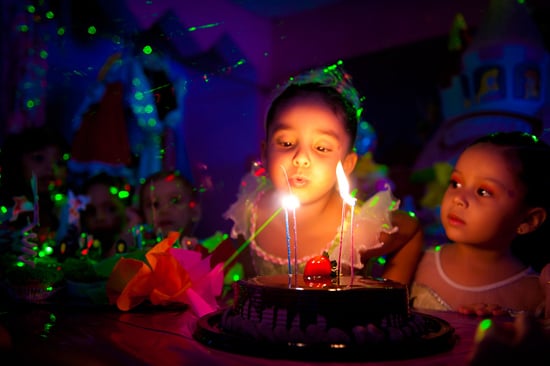 Growing up, I always had to share my birthday month with my little brother. His birthday came first on Feb. 4, and then three long weeks would pass until it was my birthday, Feb. 24. The funny thing is we are the same age for about three weeks out of the year. We're what you call "Mexican twins," born 11 months apart. Every year, his birthday card from me reads something like this, "So, you've caught up with me once again . . ."
Related: Babywearing goes sexy on YouTube
Sharing a birth month meant lots of joint birthday parties growing up. It also means we would celebrate our birthdays near his actual birth date, then when mine rolled around, it was all "we already celebrated your birthday already, remember?" OK, so I'm still a tad bitter about this whole birth month sharing.
Ahem.
My first son was born on Sept. 9. Then three years later, I had my third son (yes, I had another son in between — three children under the age of 3 aren't something I recommend if you enjoy quiet evenings and sanity), and he was born on Sept. 19. About three years later, I was pregnant once again and looking at another September due date. Sadly, I miscarried that time, so to this day, I only have two children that share a birth month. But it opened my eyes to this simple fact:
Turkey must be one helluva aphrodisiac.
No, really. How else do you explain all of these Thanksgiving conception dates? Turkey has been very, very good to me. I actually don't mind that I have two children with the same birthday month. I make sure we celebrate them separately, and that they are recognized on their special day. I try my hardest not to lump them together.
Head over to our BabyCenter Community because they are talking about same-month babies.
Do you have children born in the same month? How do you handle birthday celebrations?
More great stories from BabyCenter.com:
Ten maternity basics you should buy — and why!
No sex, no marriage, just kids
Would you rent maternity clothes?
I can't keep my kids' names straight!
Ten ways to beat the Winter blues

Source: Flickr User Eduardo Pavon