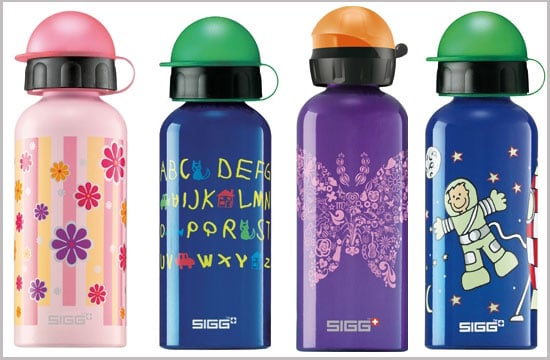 With all of the worries concerning plastic bottles, why bother with the hazards when there's a container that is safe to drink from and shatter proof.
The Swiss company SIGG has been manufacturing aluminum bottles for nearly 100 years. Just recently they began catering to a younger crowd. A smaller SIGG bottle is available in various playful and sprightly designs for your kids. The lil brain will adore the ABC bottle and the tiny space cadet will beg for the astronaut sipper. To learn more about these bottles,
.
According to their site,

"SIGG bottles exceed FDA requirements and have been thoroughly tested to ensure 0.0% leaching – so they are 100% safe.
They also have a leak proof lid and are completely recyclable. The pretty lil things start at $16. Not a bad deal for a bottle that could last until your child leaves for college.