Silly Bandz Bracelets Are the Big Trend
Not Your Mama's Jelly Bracelets, Silly Bandz Are the 2010 Trend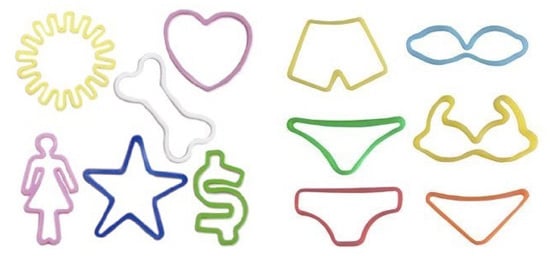 Silly Bandz are to 2010 what jelly bracelets were to the '80s. The inexpensive bendable silicone bands shaped like fish, fashions, and just about everything else are being traded in school yards across the country. There are even principals who have banned the bands because kids were getting riled up over their swaps. Themed packs of the bracelets ranging from zoo animals to western shapes and musical instruments to body parts are sold in packs of 24 for around $5 at retailers like Hallmark and Amazon. Other companies have launched competitive lines of the bracelets, some of which will sport big-name logos. In a recent report, AdAge attributed the accessories' sky rocketing popularity to a recent news event. It said:

The company got a national media boost when the young girl who got lost in the Everglades mentioned them in her "Good Morning America" interview. (One of her friends gave her a green frog band when she returned to school.)
Are your tots taking part in this hot unisex trend and stacking the bracelets up their arms or snapping them across the room?