Silver Fetus Ornament from The Flaming Lips
Silver Fetus Ornament: Ga Ga or Gag?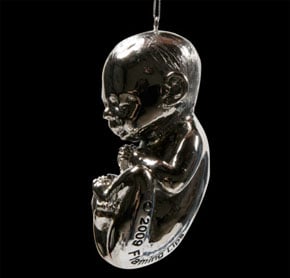 Many families commemorate their Christmas with a new ornament for each passing year. A glass-blown taxi to mark a trip to NYC or a plastered handprint to mark an age. This year, expectant parents can adorn their holiday tree with a silver fetus ornament ($30). A tad different from most decorations, what may be most odd is that these shiny babies are being produced and sold by the hipster band The Flaming Lips. Groupies are sure to jump on the baby bandwagon, but will you?