 You don't have to be a treehugger or a gourmet chef to whip up fresh food for your wee one. Last year, more than 40 percent of lilsugar readers told us that they made their own baby food. The process of steaming and then pureeing fruits, vegetables, and eventually meats is quick, easy, and incredibly satisfying. In one half-hour cooking session, you can easily make two weeks worth of meals.
Chow recently turned its attention to the food we put in our lil one's stomachs and created a great beginner's guide to baby food making. Divided into recipes for 6-, 7- and 10-month-olds, the spread is a fabulous starting point for mamas looking to get cooking. To see their recipe for making chicken and sweet peas,
.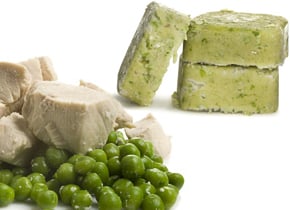 Chicken and Sweet Pea Baby Food
Ingredients
1 (8-ounce) boneless, skinless chicken breast, large dice
3 cups water
1/2 cup frozen sweet peas
Directions
Place chicken in a medium saucepan and add water. Bring to a simmer over high heat, then reduce heat to medium low and gently simmer until cooked through, about 5 minutes. Add peas and continue cooking until peas are tender, about 2 minutes more.
Remove chicken and peas with a slotted spoon, reserving cooking liquid, and place in the bowl of a food processor fitted with a blade attachment. While pulsing, add 1/2 cup of the cooking liquid and continue pulsing until mixture is mostly smooth with a few chunks remaining, about 15 to 20 pulses. Let cool slightly, then divide into 1/4-cup portions, place in airtight containers, and refrigerate up to 2 days or freeze up to 6 weeks until ready to use.
Information
Category

Main Dishes