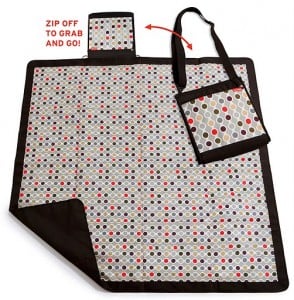 Time for a picnic that doesn't involve much lugging! Mom only has two arms so Skip Hop made a combo outdoor blanket and cooler contraption in its Central Park bag ($45) that allows a parent to slip the product on their arm and tend to their tots while searching for the perfect spot to serve lunch. The company recently sent us one to try out.
Who is this product designed for? The bag is ideal for families or anyone who is outdoorsy.
Is it practical? Yes. The blanket is good size — big enough for a family of four to sit on — and the insulated bag is compact, but has space to hold sandwiches, boxed drinks, and small snacks. Wrapping the mat back up takes about a minute.
What sets it apart? It's a nice alternative to carting a cooler and bulky blanket to the park. The mat comes in handy when you need to throw something on the ground for your baby to crawl on, and the product's strap secures right to the handlebar of most strollers.
What could be better? It's a pretty straightforward product and is priced reasonably and well made so I don't think there's much to improve upon.
Would you buy it? Yes and I'd keep it in my trunk for impromptu picnics, trips to the beach, and sporting events.
Would you give it as a gift? Yes. It's a practical baby shower present and comes in two fun prints —uptown stripe and wave dot.